Ben Affleck Movies 'The Accountant' And 'Live By Night' Delayed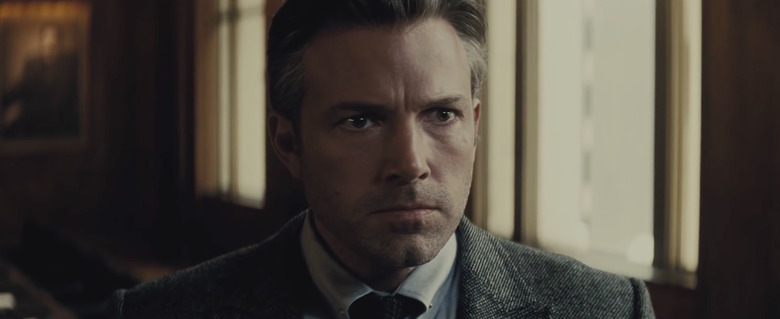 Warner Bros. has been in the Ben Affleck business for years, and that relationship only deepened after Affleck's Argo won the Best Picture Oscar. But there's a business that seemingly trumps the Ben Affleck biz, and that's the superhero game. And so while WB has two Affleck films on the slate for the coming months — the already-shot The Accountant, and his next directorial effort Live By Night — the two films have been pushed back.
The supposition is that Warner Bros. is making room for more Batman, including the solo film to be co-written and directed by Affleck.
Variety reports new dates for the two movies:The Accountant, directed by Gavin O'Connor with Affleck starring as an accountant who moonlights as an assassin, was going to be a January 2016 release. Now it will arrive on Octobert 7, 2016. Anna Kendrick and J.K. Simmons co-star in the film written by Bill Dubuque.
And Live by Night, the Boston-set crime story based on a Dennis Lehane novel, had tentatively been slotted in for that October date. With The Accountant moving back, Live By Night has been pushed to 2017. No specific release date is set for the movie at this point.
The Live By Night cast is slated to feature Sienna Miller, Zoe Saldana and Elle Fanning, and the film is scheduled to shoot this November. Whether this release delay affects the Live By Night shoot date, and therefore the cast, remains to be seen.
While there's no official reason for the date changes, we've already seen Live By Night delayed once in order to make room in Affleck's schedule for the DC films being assembled at Warner Bros. Since we know that he's also directing and co-writing (with Geoff Johns) a solo Batman movie, with that script meant to be completed before the Live By Night shoot, the suspicion is that these date changes will facilitate an accelerated assembly process for The Batman and Justice League.
We'll get our first full taste of Ben Affleck as the Dark Knight in Batman v Superman: Dawn of Justice, directed by Zack Snyder, on March 25, 2016. Justice League will begin filming right around the same time.