Fox Confirms 'Prison Break' Return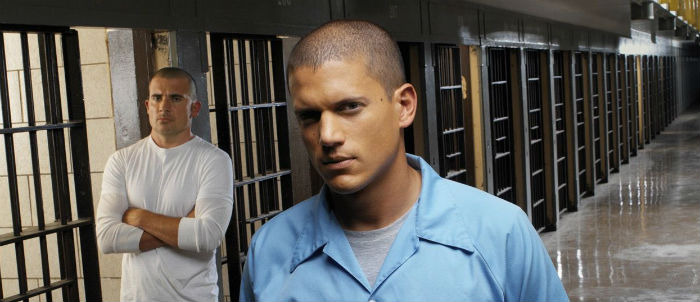 Today in their Television Critics Association executive session, Fox Television Group Chairmen and CEOs Dana Walden and Gary Newman confirmed development on a new 10-episode season of Prison Break.
Wentworth Miller and Dominic Purcell are confirmed to return, and Prison Break creator Paul Scheuring has pitched the new season. However, Walden and Newman are split on how the new series will address the straight to video movie Prison Break: The Final Break. Execs also addressed the upcoming Urban Cowboy series, saying the pilot shoots in September and that it could transform from an event series to an ongoing show.
Spoiler alert for the straight to video Prison Break finale, in which Michael Scofield (Miller) died breaking out Sara Tancredi (Sarah Wayne Callies), but he reveals he would've died anyway of a brain tumor.
"Yes, [Scheuring] is going to be ignoring the straight to video show," Newman said. "It is past season four, several years past when the season ended. Paul had a very detailed, incredible story for why these characters become relevant again and why to bring them back. I think it's going to be very exciting. This is just one of those shows, notwithstanding it being off the air 5 or 6 years, it generates buzz and enthusiasm especially online."
However, Walden said it's more likely Scheuring can find a story where The Final Break still happened. "I don't think he's going to completely ignore what happened in that [finale movie] episode," Walden said. "But what he pitched was a very logical and believable in the world of Prison Break explanation of why our characters are alive and moving around the world."
Scheuring has pitched both the pilot/fifth season premiere and a new series bible to Fox. "I'm confident we're going straight to series with that one," Newman said.
Given the split opinions, Walden clarified the status of The Final Break in the new series in a follow-up session after the panel. "I don't think they're going to ignore it altogether," she said. "Paul was not a part of the final seasons of Prison Break. He had some other ideas about where these characters were headed but it will connect to that episode. He's not going to disregard it. You'll get a satisfying answer to why some of these characters are still alive."
It won't be a Prison Break first. Sara was decapitated in season three and returned for season four, though it wasn't the subtlest of course corrections. "Listen, Paul is very cognizant of this," Walden said. "I guess for Paul this is an opportunity to tell a story about these characters that he created at the point that he left the show he had certain ideas but was not interested in staying with the show full time. So I would say to those fans, this is the pure vision of the creator of the show and it's going to take a detour a little bit from where we left off but it should feel very satisfying and eventized. I think fans will be excited about seeing these characters back together again. I'm very excited about T-Bag."
There's a subtle confirmation about Robert Knepper returning too. However, Walden would not confirm that the Scofields are going back behind bars, which is fair. Season two was about them being on the lam and four had them going on government missions.
"It's just the title," Walden said. "I don't want to talk about the specific storylines. Paul just pitched us three weeks ago. It wouldn't be fair to discuss things that are at such a nascent stage."
Callies is still not confirmed to return. "Not sure yet," Walden said. "Again, don't want to talk about it too much because we've just begun development and Paul has just started writing. I know he'd be very frustrated with me if I disclosed some of the very early elements that he talked about."
***
The Fox execs also spoke of their Urban Cowboy TV series. "We'll be making it a current day series and it's inspired by the film," Newman said. "There'll be elements from the film that are there but it's definitely current day. We've just started the casting process. I think some actors are coming in tomorrow in fact to read for some roles. We don't have any actors yet set."
"In terms of the timing," Newman continued, "we're going to be shooting that pilot in September and we have put it on a fast track to develop series episodes as well. We leave the possibility of possibly bringing this back as a series, but otherwise it's an event series."
Hustle & Flow director Craig Brewer is directing the Urban Cowboy pilot, but he's been busy directing another Fox show so casting has just begun. "Craig Brewer, who directs the pilot, has been directing our 3rd episode of Empire which was something he committed to before his pilot was ordered," Walden said. "We really just have him back in town now to start casting."