ABC President Talks The Future Of Marvel Television: Agents Of SHIELD, Inhumans, Agent Carter In Hollywood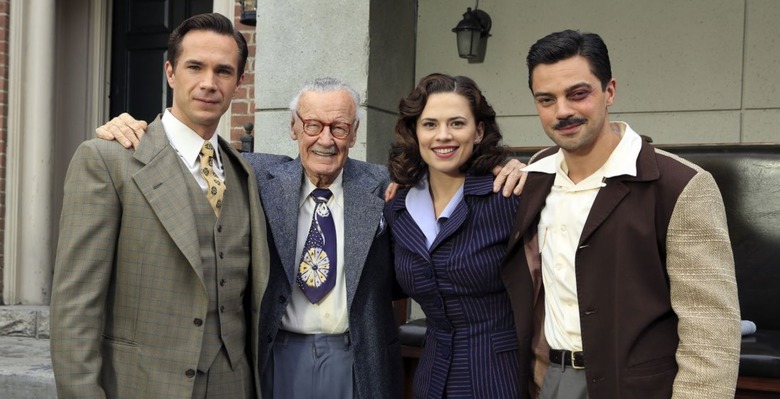 ABC Entertainment Group President Paul Lee spoke before the Television Critics Association for an executive panel on Tuesday, August 4. When asked about ABC's plans for Marvel, given that Netflix has many of Marvel's television properties, Lee staked his network's claim to the continuing success of Agents of S.H.I.E.L.D. and Agent Carter.
For the 1940s set period piece Agent Carter, Lee discussed plans to bring Peggy Carter (Hayley Atwell) to Hollywood for season two.
"We're doing this season of Agent Carter here in Hollywood," Lee said. "It's really opening it up because suddenly you have the glamour of late '40s Hollywood. You have Haley in that environment. [She's] enjoying itself."
In S.H.I.E.L.D.'s second season, we learned that Skye (Chloe Bennett) is an Inhuman. For a show that began as a showcase for the non super powered arm of Marvel's Cinematic Universe, Lee confirmed that season three would bring a lot of super powers..
"S.H.I.E.L.D. itself has a really interesting next season," Lee said. "You probably know that Skye suddenly had super powers. She's Inhuman and now the real thrust for next season is are you Inhuman? You're going to seem ore characters with super powers. They've arced out a really fun season."
Lee also reiterated that ABC Studios has a stake in the Marvel Netflix shows, but he is game to do more with Marvel on ABC. He just doesn't want to oversaturate the market with Marvel.
"We would [do more Marvel]," Lee said. "Obviously we'll be very careful not to overpromise. Our studios make shows we do for Netflix. Daredevil is a big hit. S.H.I.E.L.D. is a very strong asset. [I'm] very bullish about Marvel and its future on the network."