Ron Perlman Doesn't Want To Make Hellboy 3 But He'll Do It Anyway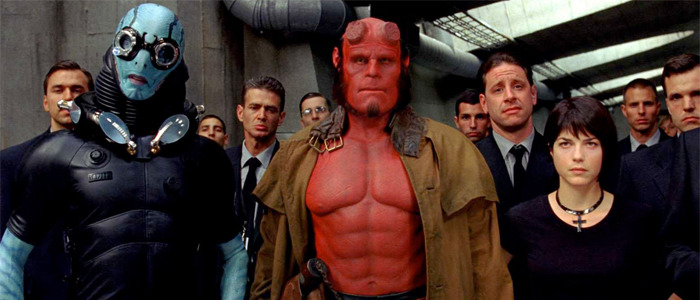 Given all the support Ron Perlman has given for a potential Hellboy 3, you might be surprised to hear he doesn't actually want to make it. That's an unexpected position, since the path of least resistance is to leave it alone and let it never happen. Two studios have already passed on making a sequel, first Columbia and then Universal. Yet Perlman keeps tweeting and rallying Comic-Con support. Find out why Ron Perlman doesn't want to make Hellboy 3, after the jump
After a TCA panel for his Amazon series Hand of God, Perlman clarified to reporters why he's pushing so hard.
"Let me make the record clear," Perlman said. "I don't want to do Hellboy 3. It's a pain in the ass to put that makeup on and take it off. But I feel we're obligated to finish the story. That's it. End of conversation."
Even director Guillermo del Toro has accepted that he can't get financing for a Hellboy 3, so the only news is news generated by reporters asking and Perlman sharing.
"I got no problems with forcing the conversation, as you can tell," Perlman said. "We're in the business of moving mountains. Those of us who are used to working in mainstream film and television. Don't come to me with details and problems. Just tell me how we move the mountain."
Del Toro had suggested that there could be a time limit on casting Perlman as Hellboy a third time. The actor is in his 60s and del Toro told Yahoo, "We better do it quick. Ron is no spring chicken, and soon enough he's going to be Hellboy in a Barcalounger, changing channels, ordering from shopping networks."
Perlman said there's no cutoff point for him, and even del Toro has made a similar joke in support of "old Hellboy."
"Because del Toro says: Put the makeup on, you can shoot me in a wheelchair and I'll still be Hellboy," Perlman said. "I guess the only cutoff point is when they actually close the box. If you don't see me get up and go, 'Hang on, I was kidding,' then I'm still ready."
The prolific actor will have no shortage of work, with his new TV show and his typically full slate. In addition, he's now developing his own films.
"I just launched my own movie studio so we have four things in production right now," Perlman said. "We're putting three or four more in production as we speak so it's going to be an amazing year. Along with Hand of God which I'm as proud of as anything I've ever done. Things are good in my world right now."
The first episode of Hand of God is on Amazon now, with the full first season coming in September.