'Batman V Superman' Rumor: Who Is Scoot McNairy Playing?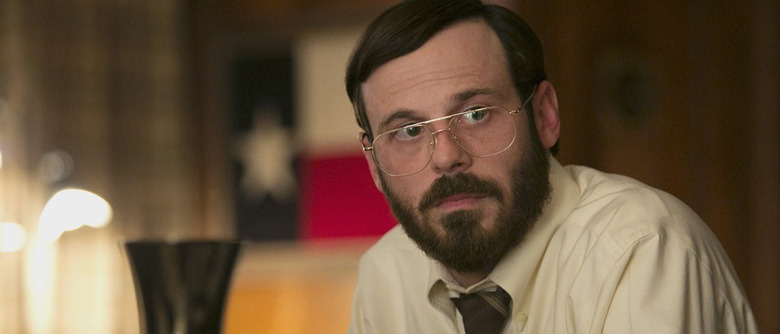 Despite the recent onslaught of information about Batman v Superman: Dawn of Justice, there's still a lot that's being kept under wraps. We don't know, for example, whom Scoot McNairy is playing... or do we? A new rumor – well, an old rumor that's been dusted off, reinforced, and sent back into circulation — may have the answer. More details on the Scoot McNairy Jimmy Olsen theory after the jump. 
Let's rewind a bit. Last summer, McNairy was spotted wearing bright green socks (indicating CG work) on the Batman v Superman set, sparking a million fan theories about his character. A short while later, an individual claiming to have worked on the film as an extra said McNairy was playing Olsen:
Scoot is playing Jimmy Olsen, but with a bit of a twist. Jimmy was injured during the battle of Zod vs Superman. His legs where pinned under falling building rubble and that caused him to lose the legs. He now walks with the use of two prosthetic legs. He doesn't blame Superman for it [his loss of legs]. He feels grateful that Superman saved the world.
Those character details were never officially confirmed, and it looks like the extra's original story has since been taken down. However, the Scoot McNairy Jimmy Olsen rumor has resurfaced today thanks to Heroic Hollywood, whose sources have told them that earlier story was accurate. McNairy can be seen in the courtroom scene in the Batman v Superman: Dawn of Justice trailer, although his brief appearance gives very little indication as to who he is or what he's doing.
Jimmy Olsen is a key figure in the Superman comics – maybe the fourth most famous Superman character after Lex, Lois, and Superman himself. It wouldn't be surprising if the DC Cinematic Universe wanted to introduce him at some point, and McNairy is a plausible fit. But again, Warner Bros. isn't saying anything. So take the report with a grain of salt for now.
Here's what we do know for certain: Batman v Superman: Dawn of Justice stars Henry Cavill, Ben Affleck, Gal Gadot, Jesse Eisenberg, Jeremy Irons, Holly Hunter, Amy Adams, Laurence Fishburne, and Diane Lane. Zack Snyder is directing. It opens March 25, 2016.