Phil Lord And Chris Miller's 'Son Of Zorn' Adds Jason Sudeikis And Cheryl Hines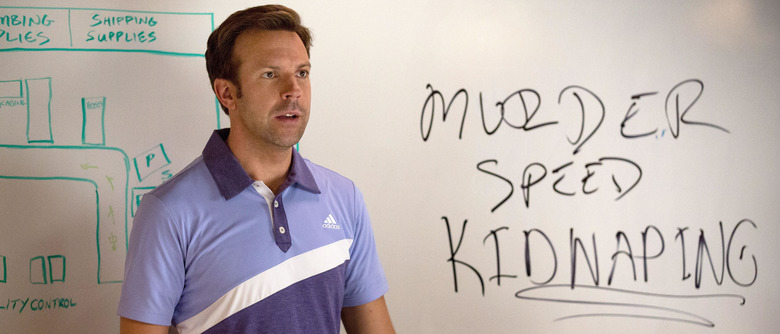 Phil Lord and Chris Miller have found a leading man for their new project. No, not the Han Solo spinoff – Son of Zorn, their live-action / animation hybrid series for Fox. Jason Sudeikis will play Zorn, an animated barbarian struggling to reconnect with his life-action family.Cheryl Hines, Tim Meadows, and Artemis Pebdani have also signed on. More on the Son of Zorn Jason Sudeikis casting after the jump. 
Here's the bizarre-sounding synopsis for Son of Zorn (renamed from Son of Zahn):
Upon arriving home for the first time in ten years, an animated Barbarian father finds that reconnecting with his live-action son and ex-wife while suffering a mundane office job and the banality of suburban life is harder than waging actual war in his distant, animated world.
EW reports Sudeikis will play Zorn, and Hines his ex-wife Edie. Meadows plays Edie's new live-in boyfriend. Pebdani is Zorn's boss. As previously announced, Johnny Pemberton will play Zorn's angsty estranged teenage son. Son of Zorn will shoot an 8- to 10-minute pilot presentation for Fox this summer.Reed Agnew and Eli Jorne will serve as showrunners and executive producers on Son of Zorn. Eric Appel will direct and co-executive produce. Seth Cohen is also executive producing alongside Lord and Miller. The trio previously collaborated on Fox's The Last Man on Earth, which featured Sudeikis in a small role.
Sudeikis shot to fame on Saturday Night Live and has managed to build a pretty solid career outside the show as well. He's appeared in both studio pics (Horrible Bosses, We're the Millers) and indies (Sleeping With Other People, Tumbledown). His upcoming roles include the Zach Galifianakis heist comedy Masterminds, the drama The Devil and the Deep Blue Sea, and the animated Angry Birds.
Hines was last seen in Think Like a Man Too and the comedy series Suburgatory. She is currently filming Wilson, based on the graphic novel by Daniel Clowes. Meadows is shooting Conner4Real, the Lonely Island movie. And Pebdani has a recurring role on ABC's Scandal, which enters its fifth season this fall.