David Fincher's 'Utopia' And 'Video Synchronicity' In Trouble At HBO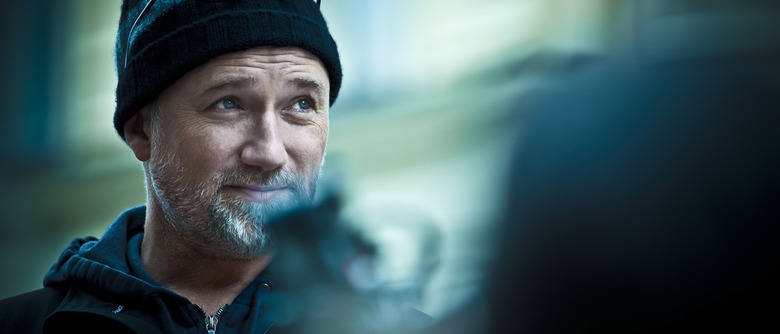 HBO's love affair with David Fincher may be on the rocks. Both of his planned HBO series, the '80s music video drama Video Synchronicity and the sci-fi mystery Utopia, are in jeopardy. As of now, however, HBO hasn't officially pulled the plug on either. Both were ordered straight to series by the network in the past year. Get the latest updates on the David Fincher HBO shows after the jump.
Production on Video Synchronicity was abruptly halted in June, in the middle of shooting the fourth or fifth episode of the first season, and crew members were sent home. Nevertheless, HBO president Michael Lombardo insists the show "isn't dead" — though he did acknowledge its troubles. "When we both saw the third and fourth [episodes], we realized we needed to go back and do some work on the scripts," he told THR at the TCA summer press tour.
Lombardo continued:
David's attention at that point — he is someone who likes to be hands on, on everything — got diverted by another project [HBO's Utopia]. [He's] not good at letting us go ahead and do what we needed to do on Video Synchronicity while he was working on Utopia. I texted with him today, we're going to turn our attention soon back to Video Synchronicity and figure out the path forward. But I fully expect we're going to be able to finish that up.
While Video Synchronicity suffers from Fincher's divided attention, his other show Utopia is having money woes. THR's sources indicate the drama pilot is "way over budget," and Lombardo admits the network is "struggling right now trying to figure that out." He said, "We're at that moment, trying to figure out if there is a path forward or not for Utopia."
Deadline reports the cast (which includes Fincher's The Girl With the Dragon Tattoo star Rooney Mara) has been released from their contracts. Their sources say the quibble is over money in the range of $5 million — Fincher won't go lower than $100 million for the series, while HBO won't go above $95 million.
Fincher had planned to direct every episode of the first season of Utopia, which is being scripted by Gone Girl writer Gillian Flynn. Based on the British TV series of the same title, Utopia follows a group of comic book fans who get their hands on a graphic novel that holds the key to a dangerous conspiracy.
Video Synchronicity stars Charlie Rowe as a college dropout who moves to Hollywood in 1983 with the intention of directing a sci-fi epic. He lands a job as a PA for a music video company, just as the music video industry is blowing up. Of the two projects, Video Synchronicity looks more likely to make it to air. "There's too much good stuff for us not to figure it out," Lombardo said of the series. "We're going to figure it out."