Daniel Radcliffe To Play Undercover FBI Agent In 'Imperium'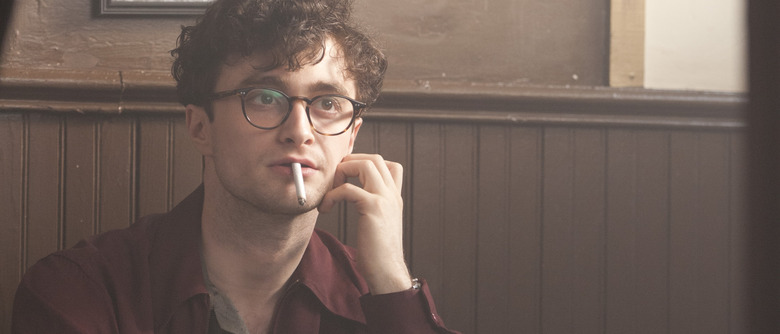 Daniel Radcliffe established his career battling pureblood supremacist Voldemort, and now he's switching gears to fight some white supremacists. He's set to lead the fact-based drama Imperium, about a young FBI agent tasked with infiltrating a neo-Nazi group to stop the construction of a dirty bomb. Read all about the Daniel Radcliffe Imperium casting after the jump.
Deadline got the scoop. Imperium will be the feature directing debut of Daniel Ragussis, known for the short film Haber. (Watch it here.) Ragussis also wrote the script with Michael German, the real-life agent on whom Imperium is based. Ty Walker, Dennis Lee, and Simon Taufique are producing.
German spent 16 years working with the FBI, much of them undercover among white supremacist militias in the U.S. Among other career highlights, he successfully foiled plans to attack a black church in Los Angeles in the 1990s. In 2004 he was blew the whistle on FBI mismanagement, and was consequently forced to resign. Much more about him and his career can be found in this 2006 interview, if you're curious.
Radcliffe hasn't been seen much lately — his only role this year has been an extended cameo in (swipe to reveal, just in case you weren't aware) Trainwreck (end swipe) — but that's because he's been busy filming. He has something like half a dozen projects due out in the next couple of years. First up is fall's Victor Frankenstein, a retelling of the Mary Shelley classic. Radcliffe plays Igor, the faithful assistant to the good doctor (played by James McAvoy).
Beyond that, He's already wrapped production on Now You See Me: The Second Act and the TV movie Game Changer. Additionally, he has two historical dramas in pre-production: Young Republicans and Brooklyn Bridge. (His American accent should be getting quite a workout.) At present he's shooting Swiss Army Man with Paul Dano and Mary Elizabeth Winstead, and he'll jump over to Imperium this fall.