Fantastic Fest 2015 Features Kurt Russell And 'Bone Tomahawk' World Premiere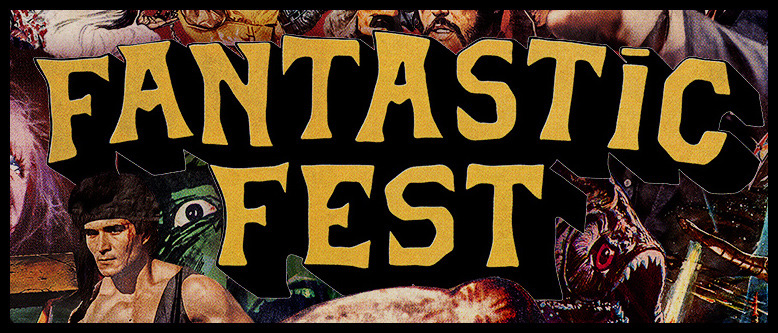 The first wave of programming and events for Fantastic Fest 2015 is here, and the September festival, located at the Alamo Drafthouse in Austin, TX, has a great slate set up. If this year's fest was just this first wave, it would still be worth the trip. Why? How about the world premiere of Bone Tomahawk, the cannibal western starring Kurt Russell, who will also be present for the fest's closing night party?
There's also a set of recent festival faves such as Karyn Kusama's great movie The Invitation and the one-take thriller Victoria, and a slate of weird '70s Turkish pop cinema including Tarkan vs the Vikings, which is one of the weirdest movies I've ever had the pleasure of showing to friends, and The Deathless Devil. There's a lot more in store for Fantastic Fest 2015, including a book signing from Nicolas Winding Refn; get more details below. 
Here's the first wave of Fantastic Fest 23015 announcements. The festival runs from September 24 to October 1. Badges are available for purchase here.
BONE TOMAHAWK
United States, 2015
World Premiere, 133 min
Director – S. Craig Zahler
Kurt Russell stars in this character driven and at times horrific Western about a group of men (including Patrick Wilson, Matthew Fox and Richard Jenkins) who set out to rescue a local woman and a young deputy who've been kidnapped by a tribe of cannibalistic troglodytes.
DARLING
United States, 2015
World Premiere, 78 min
Director – Mickey Keating
A young woman slowly goes crazy after taking a job as the caretaker for an ancient New York home in the new film from writer/director Mickey Keating.
THE DEATHLESS DEVIL
Turkey, 1972
Repertory Screening, 84 min
Director – Yilmaz Atadeniz
The mysterious Dr. Satan's nefarious plans threaten the future of everyone on the planet, and the only men who can stop him are the brilliant Copperhead and his assistant Sherlock Holmes!
DER BUNKER
Germany, 2015
North American Premiere, 85 min
Director – Nikias Chryssos
A student rents a room from a family in their converted army bunker, and ends up the tutor to the child and a virtual slave to the parents.
FAREWELL UNCLE TOM
Italy, 1971
Repertory Screening, 123 min
Directors – Gualtiero Jacopetti, Franco Prosperi
The first movie based on historical facts about the rise and revolt of slavery in America is one of the most brilliant, misunderstood and reviled of all time.
GERMAN ANGST
Germany, 2015
US Premiere, 111 min
Directors – Jörg Buttgereit, Michal Kosakowski & Andreas Marschall
German directors Buttgereit, Kosakowski and Marschall unleash this brutal assault on the senses, a surreal three-part horror anthology touching on love and hate and everything in between.
IN SEARCH OF ULTRA SEX
France, 2015
North American Premiere, 60 min
Directors – Nicolas Charlet and Bruno Lavaine
A pandemic infects people everywhere with infinite lust, and the only ones who can save us are a group of astronauts in space, desperately looking for a solution.
THE INVITATION
United States, 2015
Special Screening, 97 min
Director – Karyn Kusama
A haunted man attends a dinner party at the house he once called home, and becomes gripped with paranoia that his ex-wife and her new husband are harboring an insidious agenda.
LIZA THE FOX FAIRY
Hungary, 2015
Regional Premiere, 98 min
Director – Károly Ujj-Mészáros
Somewhere in 1970s Budapest, nurse Liza dreams of romance. But as all her suitors die in violent and extreme ways, she begins to fear the worst: maybe she is really a fox fairy, doomed to remain alone forever!
LOVE AND PEACE
Japan, 2015
US Premiere, 117 min
Director – Sion Sono
Fantastic Fest staple Shion Sono returns once again with a deeply personal (and expectedly odd) film about a lonely businessman with dreams of punk rock stardom and his best friend, a turtle.
LOVEMILLA
Finland, 2015
North American Premiere, 97 min
Director – Teemu Nikk
LOVEMILLA is a delightful peek at life and love in Finland, filled with all the usual zombies, black holes, giant pandas and superheros you'd expect from the land that gave us Renny Harlin.
THE MAN WHO SAVES THE WORLD
Turkey, 1982
Repertory Screening, 91 min
Director – Çetin ?nanç
There has never been and will never be another film like THE MAN WHO SAVES THE WORLD, and your only chance to discover why is at this special Fantastic Fest screening!
MY BODY HUNGERS
United States, 1967
Repertory Screening, 80 min
Director – Joseph W. Sarno
A roadhouse hostess goes undercover to investigate the murder of her sister in a little-seen sexploiter from grindhouse rebel and master of erotica Joe Sarno.
OFFICE
Korea, 2015
US Premiere, 111 min
Director – HONG Won-Chan
OFFICE is the story of Kim, the salaryman who one day brutally murders his entire family with a hammer, and Lee, the put-upon intern at his workplace. It's dark-as-night corporate satire hiding behind a slasher veneer with scares so well timed, you'll jump out of your seat non-stop.
REMAKE, REMIX, RIP-OFF
Turkey/Germany, 2014
US Premiere, 96 min
Director – Cam Kaya
Welcome to Turkey. It's home to Yesilcam, the Turkish Hollywood where, in the late '70s, dreams were built on nothing more than a dime. Both a loving tribute to the burgeoning cinema of this young country and a trip into history, REMAKE, REMIX, RIP-OFF brings you the most outlandish story you've never heard, about filmmaking so dangerous that you need a safety harness just for watching.
RUINED HEART
Phillipines-Germany, 2015
Regional Premiere, 73 min
Director – Khavn de la Cruz
Filipino iconoclast Khavn De La Cruz teams with famed cinematographer Christopher Doyle and Japanese mega star Tadanobu Asano to create a self-described "punk noir opera."
SENSORIA
Sweden, 2015
World Premiere, 82 min
Director – Christian Hallman
Caroline Menard is a woman in her thirties who has lost everything. As she moves into a new apartment searching for a new start, she's unaware that something ancient is waiting for her.
THE SIMILARS
Mexico, 2015
World Premiere, 89 min
Director – Isaac Ezban
On a dark and stormy night, eight strangers are stuck in a small bus station waiting for a bus to Mexico City. When strange things start happening, they find themselves trapped in a struggle for sanity and survival.
SPEED
South Korea, 2015
North American Premiere, 104 min
Director – Lee Sang-woo
Four friends navigate sex, love and life in a heart-breaking new film from Korean director Lee Sang-woo.
STAND BY FOR TAPE BACK-UP
United Kingdom, 2015
US Premiere, 65 min
Director – Ross Sutherland
Hypnotically scanning the contents of a VHS tape, this experimental essay-film eulogizes the former custodian of the analog artifact, transforming its recordings of GHOSTBUSTERS and FRESH PRINCE (among others) through rap-infused anecdotal narration, and inscribing both profound and hilarious associations to the tracking-lined images. STAND BY FOR TAPE BACK-UP will be presented as both a traditional screening as well as a live performance by creator Ross Sutherland.
TARKAN VS THE VIKINGS
Turkey, 1971
Repertory Screening, 86 min
Director – Mehmet Aslan
Based on one of the most popular comic strips in Turkey. this rip-roaring adventure sees Tarkan and his trusty wolf companion Kurt take on the despicable Viking invaders after they leave him for dead!
VICTORIA
Germany, 2015
Regional Premiere, 138 min
Director – Sebastian Schipper
Sebastian Schipper's fourth directorial work is a single-shot tour-de-force that follows a Spanish barista through a dance club, the streets of Berlin, a coffee shop, a bank robbery and her destiny.
THE X-RATED SUPERMARKET
United States, 1972
Repertory Screening, 62 min
Director – Paul Roberts
Want to save money on your weekly sex toy budget? Look no further than the supermarket shelves in some salacious tips and reactions from suburban horny housewives.