'Little Women' Falls Victim To The Gritty Reboot Trend At The CW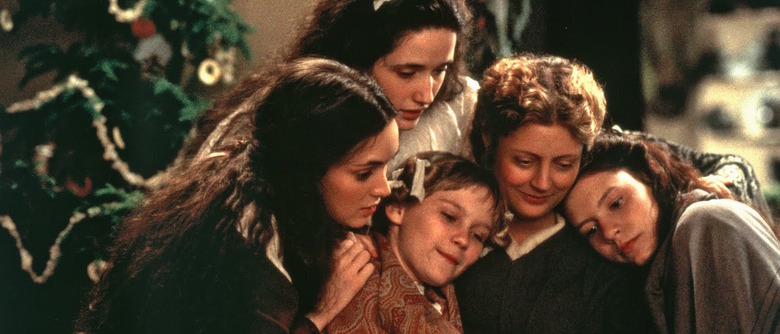 The March sisters are coming to The CW, sort of. The network has put into development Little Women, an adaptation of Louisa May Alcott's classic coming-of-age novel about four sisters in Civil War-era Massachusetts.
In the new show, however, the March girls won't be sisters but half sisters. Also, they now live in dystopian Philadelphia. And they're out to uncover a massive conspiracy. Plus, the tone will be "hyper-stylized" and "gritty." But other than that, it's totally the Little Women you remember, they swear! Get all the details on the Little Women gritty reboot after the jump. 
Deadline, which broke the news, describes the Little Women gritty reboot as follows:
Little Women is described as a hyper-stylized, gritty adaptation of the 1868 novel by Louisa May Alcott, in which disparate half-sisters Jo, Meg, Beth, and Amy band together in order to survive the dystopic streets of Philadelphia and unravel a conspiracy that stretches far beyond anything they have ever imagined – all while trying not to kill each other in the process.
It's not that the premise sounds terrible, exactly. There are worse TV pitches than "dystopian urban thriller about a family searching for answers." But in what universe does that sound like Little Women? Based on the description, the only element that remains of Alcott's original work is the idea of four sisters named Jo, Meg, Beth, and Amy.
No, this Little Women sounds more like the producers just started throwing buzzy keywords at the first public domain property they could think of. Perhaps we should just be grateful the phrases "Marvel-style shared universe" and "army of zombies" weren't also invoked. (Though who knows once the plot gets going — maybe the girls can team with Arrow and the Flash to fight the undead in a special crossover event.)
Anyway, this gritty, dystopian Little Women is being written by Alex Jolly, who'll also executive produce with NCIS co-star Michael Weatherly. Jolly landed on the 2013 Black List for his Mister Rogers biopic A Beautiful Day in the Neighborhood, and recently did a rewrite of Amazon Studios' upcoming feature Tiger, Tiger.
Little Women has been adapted and re-adapted many times over, though the last one most people remember is probably the 1994 movie starring Winona Ryder and Christian Bale. Besides The CW's upcoming show, a feature film from Sony is also in the works. Last fall, ABC tried to get a contemporary reimagining off the ground.