Jake Gyllenhaal Circling Boston Marathon Bombing Movie 'Stronger'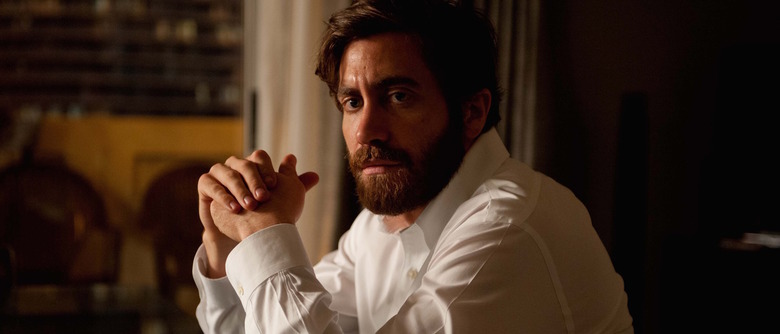 Stronger was the third Boston Marathon bombing drama announced in the past year, but it may be on track to beat the competition to the starting line. Earlier this month it found a director in David Gordon Green, and now it's closing in on Jake Gyllenhaal to lead. More details on the Jake Gyllenhaal Stronger casting after the jump. Variety reports that while several A-listers have already met about the project, Gyllenhaal has emerged as the top choice. A formal offer is expected to arrive in the not-too-distant future. Stronger is set up at Lionsgate.John Pollono wrote the Stronger script based on the memoir by Jeff Bauman and Bret Witter. Bauman was waiting for his girlfriend at the finish line when the explosions hit, killing three people and injuring 260. Bauman was one of the injured, losing both his legs.
When Bauman awoke from surgery the next day, he let authorities know he'd seen the bomber. The manhunt ended four days after the bombings, with one suspect killed in a shootout and the other taken into custody. Bauman served as a key witness in the trial of the living bomber, Dzhokhar Tsarnaev.
Stronger is competing with two other projects in development. One is CBS Films' Patriot Day, an intense thriller about the search for the Tsarnaev brothers. Mark Wahlberg is attached to play Boston police commissioner Ed Davis. The other is Fox's Boston Strong, based on a book co-written by Boston Herald reporter Dave Wedge. It's currently looking for a director after Daniel Espinosa dropped out.
Gyllenhaal has a reputation as one of most reliably excellent actors working today. He's coming off of a career-best performance in Nightcrawler, and can currently be seen in Antoine Fuqua's boxing drama Southpaw. He'll next next appear in Baltasar Kormákur's Everest and Jean-Marc Vallée's Demolition. Both films premiere on the festival circuit this fall — Everest at Venice and Demolition at Toronto.