Paramount Confirms 'Mission: Impossible 6' Development [Updated]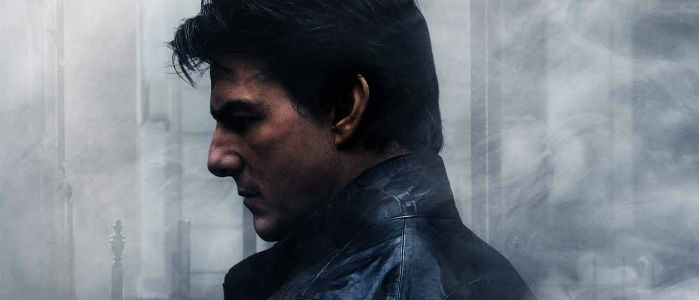 The Mission: Impossible series is a slow-burning one, unlike the fuse that accompanies each film's opening credits, and very much unlike the typical development path for some big action franchises. (2006 through 2015 delivered three Mission: Impossible movies, but five Fast and the Furious films, for example.)
With the latest mission, Rogue Nation, about to hit theaters, star and producer Tom Cruise says the wait for the next film might be much shorter. He isn't getting any younger after all, and so the wait for Mission: Impossible 6 might be much shorter than the interval between other installments in the series. Additionally, Cruise says he has pitched an Edge of Tomorrow sequel to couple recent collaborators.
Update: Paramount has confirmed Cruise's announcement of the Mission: Impossible 6 development.
Stopping by The Daily Show to promote Rogue Nation, Cruise was asked about plans to do a sixth movie in the series. He told Jon Stewart "We're starting to work on it now. We'll probably start shooting it next summer." That might be dependent upon the financial success of Rogue Nation, but with glowing reviews that might not be an issue.
Precisely who would make the movie is open to question, but we wouldn't be surprised to see Cruise collaborate again with writer/director Christopher McQuarrie, and perhaps screenwriter Drew Pearce.
Update: Rob Moore, vice chairman of Paramount, told Variety "We're very happy to be developing this movie with Tom," Moore told Variety. "There's no question that Ethan Hunt deserves another film.... The international brand is as strong as ever."
There's "no question" of another film now that Rogue Nation has earned $121m globally, with $56m in the US, which is a figure 40% higher than the expected $40m opening weekend.
That would keep Cruise on a fast trot through several projects. He's been shooting Mena with Edge of Tomorrow director Doug Liman, and will then get to New Orleans to shoot the Jack Reacher sequel with his Last Samurai director Ed Zwick.
And The Playlist points out an MTV interview in which Cruise says he concocted an Edge of Tomorrow sequel idea, then pitched it to McQuarrie and Liman:
I pitched it to ["Rogue Nation" director and "Edge of Tomorrow" screenwriter Christopher] McQuarrie and ["Edge of Tomorrow" director] Doug [Liman]. We were there one night and I was like, I've got an idea for it.
Sounds like that might not have anything to do with the planned manga sequel to Edge of Tomorrow source material All You Need Is Kill, but regardless we'd be happy to see Cruise get back in the power suit. And he insists that Emily Blunt would have to return as well, with which we whole-heartedly agree.
Here's the Daily Show interview.