'Five Nights At Freddy's' Picks Up 'Poltergeist' Director Gil Kenan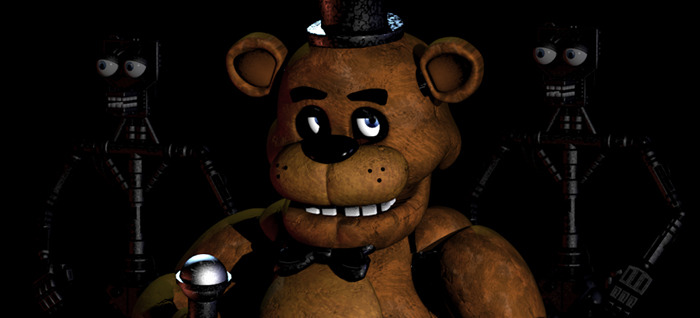 Monster House and Poltergeist director Gil Kenan is branching out from haunted houses to deadly pizza parlors. Kenan is set to direct Five Nights at Freddy's, a live-action adaptation of the hit mobile game series. Hit the jump for more details on the Five Nights at Freddys Gil Kenan news.
Deadline reported the news. In addition to directing, Kenan will also write the script with Tyler Burton Smith. Roy Lee (The Lego Movie) will produce with Seth Grahame-Smith and David Katzenberg (Abraham Lincoln: Vampire Hunter). Adam Stone and Jay Ireland are executive producing, and Jon Berg and Nik Mavin kurve will oversee for studio Warner Bros
Created by Scott Cawthon, the first Friday Night at Freddy's first hit Android, iOS, and Windows in 2014. The player takes the role of a security guard at Freddy Fazbear's Pizza, a Chuck E. Cheese-type joint featuring animatronic characters. Said characters roam freely in the evenings and have a nasty habit of killing people. The object of the game is to survive a week's worth of night shifts at the restaurant.
Later installments (there were three in all) moved the action to a horror attraction and then a child's bedroom. On the whole the games have been very popular with players, and critics have praised them as well. The unsettling character design, creepy backstory, and liberal use of jump scares combine to keep players on their toes.
Kenan made his feature directing debut with the animated feature Monster House. He followed that up earlier this year with the (underrated — there, I said it) remake of Poltergeist. He seems to be the go-to guy for exciting but family-friendly horror, and Five Nights at Freddy's should be right up his alley.
Video game movies tend to get a bad rap, though there are some more promising coming up in the not-too-distant future. Lately there's been a lot of interest in adapting mobile games for the big screen, with feature versions of Angry Birds and Cut the Rope in the works.