'Spotlight' Trailer: Michael Keaton And Rachel McAdams Investigate The Church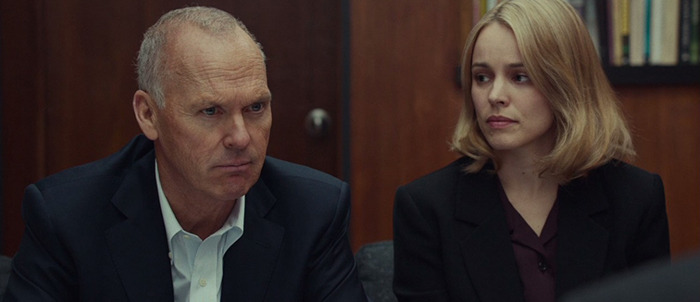 Spotlight tells the story of the Boston Globe's investigation into allegations of child molestation by Catholic priests, and just look at this cast assembled by director Tom McCarthy: you've got Michael Keaton, Mark Ruffalo, Rachel McAdams, Liev Schrieber, Brian D'Arcy James, Stanley Tucci and Billy Crudup playing people on both ends of the legal argument. The Spotlight trailer features them all, and it's footage that is pretty difficult to resist in the end.
That trailer starts off struggling, but as all the actors get their chance to speak, and especially as Michael Keaton's indignation and intensity start to build, any resistance I might have had crumbles away. That's even in the face of this trailer continuing the trend of using a moody cover of a pop song — in this case 'Dear God,' originally by XTC — to underscore how serious the situation is. In this case, we're talking about systematic abuse, so we really don't need to be convinced that this is serious.
Spotlight opens on November 5. Trailer via Apple.
Starring Michael Keaton, Mark Ruffalo, Rachel McAdams, Liev Schrieber, Brian D'Arcy James and Stanley Tucci, SPOTLIGHT tells the riveting true story of the Pulitzer Prize-winning Boston Globe investigation that would rock the city and cause a crisis in one of the world's oldest and most trusted institutions. When the newspaper's tenacious "Spotlight" team of reporters delve into allegations of abuse in the Catholic Church, their year-long investigation uncovers a decades-long cover-up at the highest levels of Boston's religious, legal, and government establishment, touching off a wave of revelations around the world. Directed by Academy Award-nominee Thomas McCarthy, SPOTLIGHT is a tense investigative thriller, tracing the steps to one of the biggest crime stories in modern times.