Steven DeKnight Says 'Daredevil' Finally Features "The Marvel Version" Of The Punisher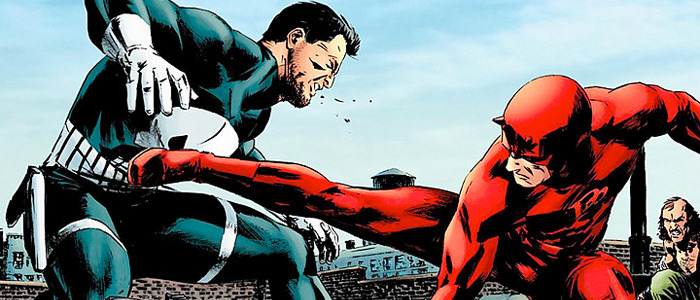 Steven DeKnight had to leave Marvel's Daredevil series to direct a feature film, so he will not be working on season two, which features The Punisher.
DeKnight was around when they discussed bringing Frank Castle, who will be played by Jon Bernthal, into the show, and he was at the Television Critics Association summer press tour today for Netflix's Showrunners panel. After the panel, I approached DeKnight to ask if this could finally be a chance to do The Punisher right after three wildly different movies starring Dolph Lundgren, Thomas Jane and Ray Stevenson. The good news is that the Daredevil season 2 Punisher may be the closest to the comics version we've seen on screen.
While being diplomatic to the three previous films, DeKnight said this will be the most "Marvel" version of The Punisher.
"The thing about The Punisher, and I think there are great things about each of those versions, but none of them was completely the Marvel version," DeKnight said.
"And none of those movies were under the Marvel Studios banner until they recently got The Punisher back. So this is really the first time that we're seeing the Marvel Studios from the Iron Man days, when they can control their own product, actually do this character."
One likely thing is that Bernthal's Frank Castle probably won't be as graphically violent as Lexi Alexander's hard R-rated film Punisher: War Zone.
"Doubtful, that was pretty violent," DeKnight said. "The first season of Daredevil was violent but I always say it was more implied. It wasn't nearly as violent as The Walking Dead, a show that I love. On that, if somebody were to crush somebody's head in a car door, you would've seen the head crush on screen but we didn't want to go quite that far. We wanted to keep it right around PG-16 and not go all the way to the R. I have no idea if they're planning to push it that far next season but I would be surprised."
DeKnight regrets having to depart Daredevil just when they're adding his favorite character. However, as a devoted Punisher fan, he vouches for the early discussions his team was having about Frank Castle before he left.
"Punisher is one of my favorite characters," DeKnight said. "I've talked to Jeph Loeb ever since I first met him back on Buffy about doing The Punisher. So it was a heartbreak to me to have to leave, but I knew it was in good hands and I loved everything we had started talking about about Frank Castle being in that story."