New 'Batman V Superman: Dawn Of Justice' Images Offer A Better Look At Batman, Superman, And Lex Luthor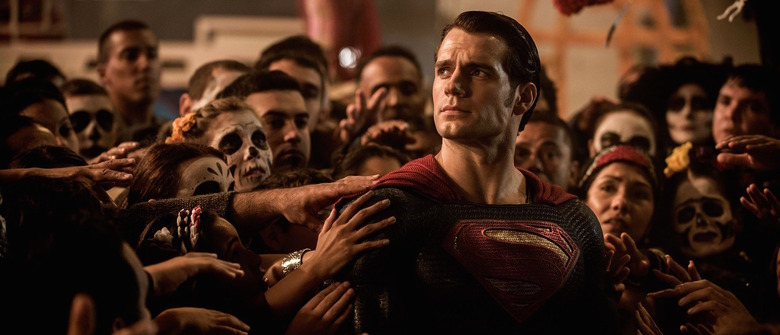 Batman and Superman may not like each other very much at the moment, but for the next eight months they'll be stuck sharing the spotlight for the Batman v Superman: Dawn of Justice promotional campaign. A new batch of pics reveal a closer look at the Caped Crusader, the Man of Steel, and a younger, Zuckerberg-ier Lex Luthor. See the Batman v Superman Dawn of Justice images after the jump. 
Empire debuted the latest Batman v Superman Dawn of Justice images.
It's worth noting that Superman (Henry Cavill) is standing in "the burnt-out ruins of Wayne Manor," which has definitely seen better days. And the Batman (Ben Affleck) pic comes from a scene in which he uses the Bat-signal to call a meeting with Superman.
Meanwhile, Jesse Eisenberg's Lex Luthor epitomizes the Silicon Valley CEO stereotype with his casual kicks, graphic tee, and corporate basketball court. This Lex also has a lustrous mane, which he should enjoy while it lasts — we already know perfectly well that it won't.
Directed by Zack Snyder, Batman v. Superman: Dawn of Justice opens March 25, 2016.
Fearing the actions of a god-like Super Hero left unchecked, Gotham City's own formidable, forceful vigilante takes on Metropolis's most revered, modern-day savior, while the world wrestles with what sort of hero it really needs. And with Batman and Superman at war with one another, a new threat quickly arises, putting mankind in greater danger than it's ever known before.
Batman v Superman: Dawn of Justice stars Henry Cavill in the role of Clark Kent/Superman, and Ben Affleck as Bruce Wayne/Batman. The film also stars Gal Gadot as Diana Prince/Wonder Woman, with Amy Adams, Laurence Fishburne and Diane Lane returning from Man of Steel, Jesse Eisenberg as Lex Luthor, Jeremy Irons as Alfred, and Holly Hunter in a role newly created for the film. Jason Momoa will also be making an appearance as Aquaman.
Directed by Zack Snyder, written by Chris Terrio, from a screenplay by David S. Goyer, the film is produced by Charles Roven and Deborah Snyder with Benjamin Melniker, Michael E. Uslan, Wesley Coller, David S. Goyer and Geoff Johns serving as executive producers.