Watch This: The Final Track From 'Inception' Performed On A Looping Cello (Again), With An Amazing Lyra Dance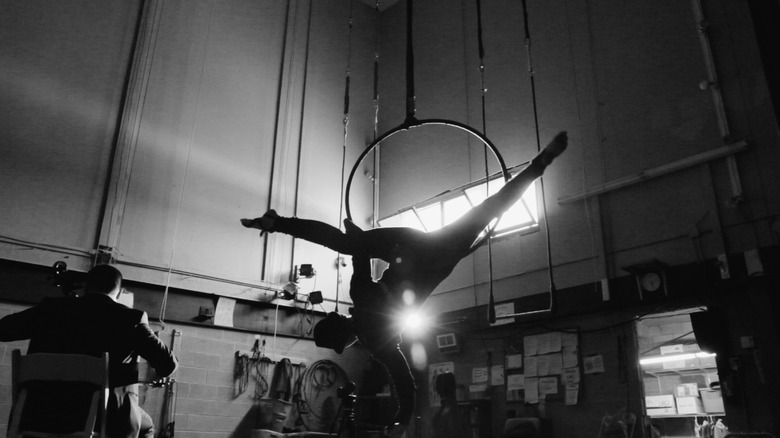 We may receive a commission on purchases made from links.
Last fall, I shared a video of myself playing a looping cello version of "Time" from Hans Zimmer's score for Inception. The response was amazing and I felt so encouraged that I actually went into a studio and recorded an entire EP of looping cello music (on sale today!).
To promote the EP, I wanted to create music videos for several tracks of the EP that were visually striking. So I teamed up with my partner-in-crime, dancer Danaë Montreuil again, and we went to Versatile Arts in Seattle to film a music video over the course of several hours using a lyra, or aerial hoop. The constantly-spinning lyra serves as a visual callback to the final moments of Inception, when Dom Cobb spins his totem and walks away before learning his fate.
I think Danaë was able to create something wonderful out of this project. Hit the jump to check out the video and learn more about how it was made.
To film this video, I had three cameras operating for nearly every take: a wide shot, a close-up of Danae, and a wide shot from a rear/side angle. One of the biggest challenges was operating the cameras by myself – I had to scramble around the room hitting "record" on every camera before hopping into the cello seat myself and hitting "play" on the music, which blared out of a Bluetooth speaker out of frame. Having great video tripods that would stay solid between takes was key (I used several Sachtler Aces for this project). Having a production assistant would have been even more useful!
After we recorded several takes of both of us together, I recorded several takes of Danae alone (from many angles) and then had Danae shoot some close-ups of the cello, all of which I spliced in throughout.
One of the challenges of making a video like this is that, to get the coverage you want, you need to do many, many takes. In particular, for a lyra performer, each take can be incredibly nausea-inducing. They are spinning around for minutes on end, performing feats of strength, upside-down. I consider Danaë to basically be a superhuman, but factoring in lots of time for recharging between takes was critical to getting the footage we needed.
I hope you all enjoy this project. I'm grateful for all that /Film readers have done to encourage me and share my videos this past year. My first cello EP is available for sale right now on iTunes, Amazon, Google Play, and Xbox.