'Avengers: Age Of Ultron' Home Video Details: Lots Of Deleted Scenes, No One-Shot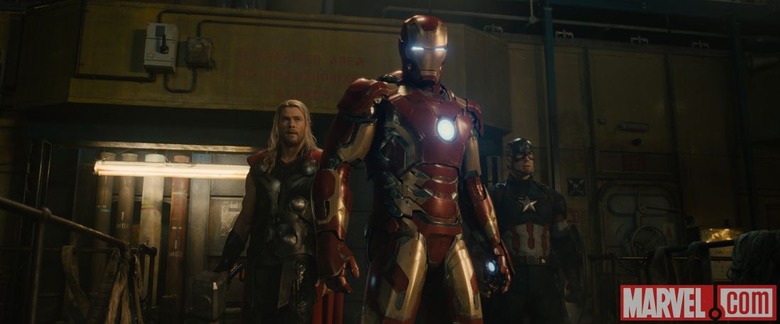 You've already caught Avengers: Age of Ultron in theaters, or so we assume based on its massive box office haul. But soon you'll get the chance to comb through it for Easter eggs in the privacy of your own living room.
Avengers Age of Ultron will come to home video this fall, as announced by Marvel Studios this fall, and it'll bring a whole bunch of new goodies along with it. After the jump, get all the details and check out a promo.
Check out the action-packed Avengers Age of Ultron promo video below. Sure, it's only the eight-best Marvel movie, according to our highly scientific and absolutely definitive MCU rankings, but it's still a Marvel movie, and therefore lots of fun.
As promised by Joss Whedon, the Avengers Age of Ultron home video release will not include a director's cut. It will, however, have 45 minutes of exclusive content including deleted scenes (preview one here, but beware spoilers), a gag reel, and behind-the-scenes documentaries.
You may want to pay especially close attention to that last part if you're mad for Thanos, as the docs include a breakdown of the Infinity Stones storyline so far. The slow-burn storyline will climax in the two-part Avengers: Infinity War, due out in 2018 and 2019.
One thing the Avengers: Age of Ultron DVD / Blu-ray won't have is a Marvel One-Shot. This isn't especially surprising, as Thor: The Dark World was the last Marvel Studios home video release to come packaged with one of these standalone shorts, but it's disappointing nevertheless.
And not just to us — Kevin Feige has admitted he misses the One-Shots as well. Previous One-Shots include Item 47 (released with The Avengers), which helped inspired Agents of S.H.I.E.L.D., and Agent Carter (released with Iron Man 3), which led to the TV series of the same title.
Avengers: Age of Ultron will be available on Digital HD and 3D, as well as the Disney Anywhere service, on September 8. It then arrives on Blu-ray, DVD, 3-D Blu-ray combo, and VOD on October 2.