Watch The First Six Minutes Of 'Disney's Descendants'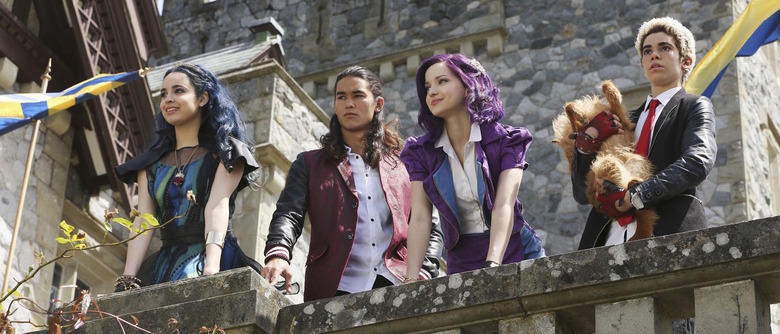 The Disney Channel is close to premiering the made-for-TV film Disney's Descendants, which features as its main characters the children of big bad villains Maleficent, Cruella de Vil, Jafar and the Evil Queen. The first six minutes of the show are now online, so you can get a taste of what's going on in the movie right now. 
Disney's Descendants comes from Kenny Ortega (High School Musical) based on a script by Josann McGibbon and Sara Parriott (The Starter Wife creators).
The cast features Kristin Chenoweth as Maleficent, Dove Cameron (Liv and Maddie) as her daughter, Mal; Sofia Carson (Austin & Ally) as Evie, the daughter of the Evil Queen (Kathy Najimy); Cameron Boyce (Jessie) is Carlos, son of Cruella de Vil (Wendy Raquel Robinson); and Booboo Stewart (Good Luck Charlie, Twilight) is Jay, the son of Jafar (Maz Jobrani).
Disney's Descendants premieres Friday, July 31. Footage via Disney.
In a present day idyllic kingdom, Disney's Descendants follows the benevolent teenaged son of the King and Queen (Beast and Belle from Disney's iconic Beauty and the Beast), who is poised to take the throne. His first proclamation: offer a chance at redemption to the trouble-making offspring of Cruella De Vil, Maleficent, the Evil Queen and Jafar who have been imprisoned on a forbidden island with all the other villains, sidekicks, evil step-mothers and step-sisters. These villainous descendants (Carlos, Mal, Evvie and Jay, respectively) are allowed into the kingdom to attend prep school alongside the offspring of iconic Disney heroes including Fairy Godmother, Sleeping Beauty, Rapunzel and Mulan. However, the evil teens face a dilemma. Should they follow in their nefarious parents' footsteps and help all the villains regain power or embrace their innate goodness and save the kingdom?