Jurassic World Sequel Announced For 2018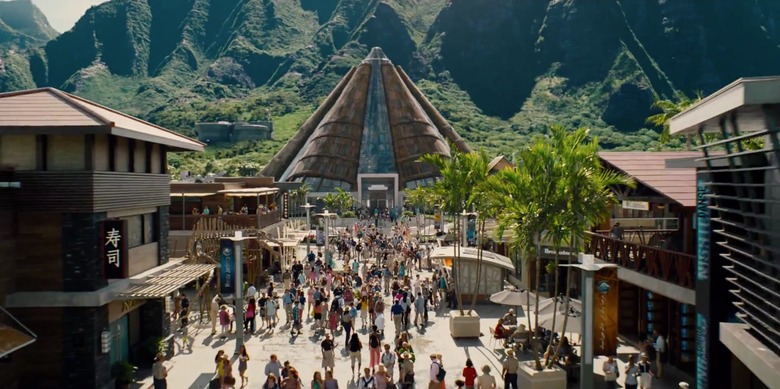 Jurassic World dominated the box office, becoming the third largest grossing movie of all time and having the #1 global opening of all-time. And now Universal Pictures has announced that a Jurassic World sequel will hit theaters in 2018. Find out more, after the jump.
Jurassic World director Colin Trevorrow has said that he won't be back in the director's chair, but he is returning to write the screenplay for the sequel with his writing partner Derek Connolly. As you know, Chris Pratt is already signed on for any inevitable Jurassic World sequels, as is Bryce Dallas Howard. Universal Pictures has dated Jurassic Park 5, or Jurassic World 2, or the yet-to-be-titled Jurassic World sequel, for June 22nd 2018. Steven Spielberg will executive produce through his Amblin Entertainment banner.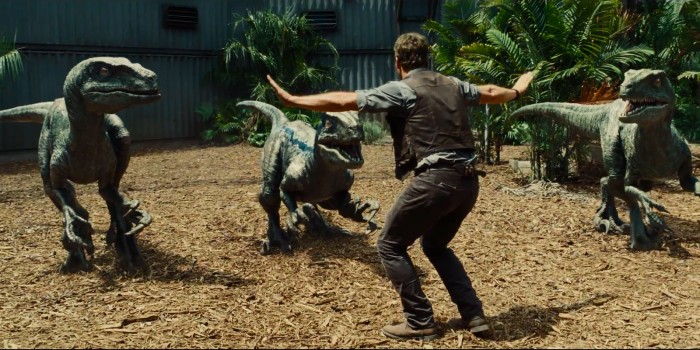 We have a lot of clues as to what Jurassic World 2 might be about and who might be involved, and Colin Trevorrow and producer Frank Marshall have shared with us some teases as to what might be next. A director has yet to be announced, but in my interview with Trevorrow from earlier in the Summer, the filmmaker commented that its "part of my job is to try and identify someone" to replace him as a successor to helm the Jurassic World sequel.
Here is what Trevorrow said about how his film, Jurassic World, might set up the future of the series:
 It's somewhat a plot based setup for the future. And that matters to a certain extent. But if we hadn't done that, you could easily manufacture that. You know, in a second film. So I find it actually the least functional setup for the future of everything that we do. There are themes and ideas in here that we're setting up, such as the coexistence of these animals on the planet with humans. In the same way that we exist with animals now. And  imagine a world where just like, you know, don't go into that jungle, there's tigers in there. They're gonna eat you. Just replace that with raptors. And I think we set up ideas in here. One of them, the one we address the most is the weaponization of dinosaurs and the fact that animals have been used in war for centuries. And there are people with completely bonkers ideas that are always gonna step in and wonder how else we can utilize a new technology. And also in this there was a line in the movie that I cut. And sometimes I wonder if I should have, but I needed the scene to move in a certain way. But there was a line where Doctor Wu says to Irrfan Khan or B.D. Wong says to Irrfan Khan, you know, how long do you think you're gonna be able to control her? We won't always be the only ones who can make a dinosaur. And that idea to me has a lot of potential in it that like nuclear power there could be a something that goes open source and there could be many entities who might have this ability to create these things and use them for various needs and purposes. So there's potential in there. For something.
We will update you with more information on the Jurassic World sequel when we get it. Until then, check out this article where our writer Ethan Anderton theorizes on what the Jurassic World sequel could be about plot-wise or maybe take a look at some of the Jurassic World easter eggs and references you might have missed in the film.
As a big fan of Jurassic World, this is exciting news. I hope the story somehow involves the theme park again and not some dinosaur-zed military operation. It would be easy to go in that direction and title the sequel Jurassic War, but does anyone really want to see that story? Although, I'm not sure a plausible story reason could be invented as to why this park would possibly reopen to the public after an incident of that magnitude.
I almost want to see a B-level sequel called Jurassic Universe or Jurassic Galaxy, set in the near future after space tourism has taken off and we have a resort on the moon. Of course, a new Jurassic Park is constructed on the moon to operate outside of the pesky laws of Earth, because what could possibly go wrong there? I'm kidding.... kind of.
And Jurassic World director and Jurassic Park 5 co-writer Colin Trevorrow responds to my insane pitch on twitter:
@slashfilm (Reads tweet, looks in mirror, rips out pages from notebook and starts over).

— Colin Trevorrow (@colintrevorrow) July 24, 2015