'Experimenter' Trailer: Peter Sarsgaard Is Stanley Milgram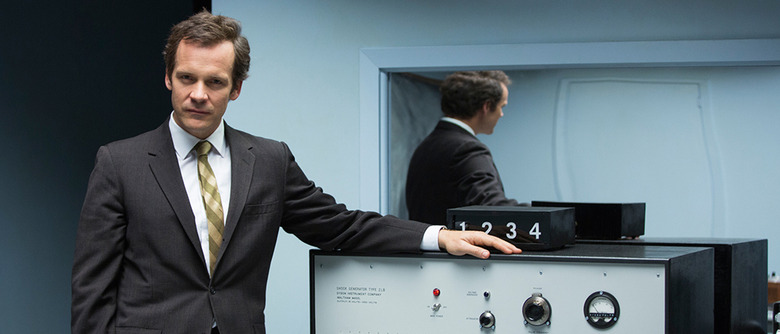 Just in case this month's The Stanford Prison Experiment failed to satisfy your craving for fact-based Sundance dramas about messed-up psychological experiments, Magnolia Pictures has just dropped the new trailer for Experimenter.
Peter Sarsgaard stars as Stanely Milgram, whose name has become synonymous with his most famous experiment. In the early 1960s, with the horrors of Nazi Germany still a recent memory, he demonstrated the willingness of ordinary people to follow orders.
Also starring are Winona Ryder as Milgram's wife, Jim Gaffigan as his colleague, and Anton Yelchin, John Leguizamo, Taryn Manning, and Anthony Edwards as some of their subjects. Watch the Experimenter trailer after the jump.
Via YouTube:
The Experimenter trailer plays more or less like a straightforward historical drama, but critics at Sundance made mention of director Michael Almereyda's purposely artificial style. That alienated some, though the film was well received overall. In any case, it should add another layer of interest when Experimenter hits theaters and VOD October 16.
Yale University, 1961. Stanley Milgram (Peter Sarsgaard) designs a psychology experiment that still resonates to this day, in which people think they're delivering painful electric shocks to an affable stranger (Jim Gaffigan) strapped into a chair in another room. Despite his pleads for mercy, the majority of subjects don't stop the experiment, administering what they think is a near-fatal electric shock, simply because they've been told to do so. With Nazi Adolf Eichmann's trial airing in living rooms across America, Milgram strikes a nerve in popular culture and the scientific community with his exploration into people's tendency to comply with authority. Celebrated in some circles, he is also accused of being a deceptive, manipulative monster, but his wife Sasha (Winona Ryder) stands by him through it all. EXPERIMENTER invites us inside Milgram's whirring mind in this bracing portrait of a brilliant man whose conscience and creative spirit continues to be resonant, poignant, and inspirational.