Michael Chiklis Joins 'Gotham' In Series Regular Role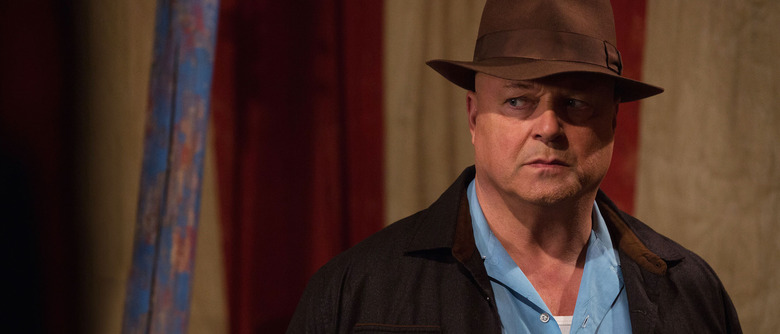 The Gotham City Police Department is adding a veteran of The Shield to its ranks. Michael Chiklis has joined Fox's Gotham in a series regular role as Nathaniel Barnes, the tough new captain of the GCPD. Get all the details on the Michael Chiklis Gotham casting after the jump. 
TV Line broke the news. Barnes is a new character created just for the show. You'd think that'd make him an intriguing mystery, but the Gotham producers have already sketched out his entire character arc. According to them, Barnes
lands on the GCPD like a tornado, ripping out the dead wood of Gotham's police force. He is a law and order zealot; unafraid of making enemies – on either side of the law. For Gordon (Ben McKenzie), Barnes is a hero and a mentor, someone with whom he can share the burden of heroism. Captain Barnes proves himself to be a strong ally to Gordon... but one day he will make an equally powerful enemy.
What was that line from The Dark Knight? "You either die a hero, or live long enough to see yourself become the villain"? It's debatable whether that pearl of wisdom actually applies in the real world, but it definitely rings true in Gotham City.
But Gotham could probably use any good guy it can get at this point, even if he's poised to become a baddie eventually. Executive producer Bruno Heller has said Season 2 will focus on "the rise of the villains," which sends Gotham on a "decline into chaos." You know, because the city was such a shining beacon of sanity and morality in Season 1.
Chiklis seems especially well suited for the Gotham role as he has professional experience with both cops and superheroes. He won an Emmy for playing corrupt police officer Vic Mackey in The Shield, and prior to that starred as a police commissioner on the '90s series The Commish.
Additionally, he starred as the Thing in the last big-screen incarnation of the Fantastic Four, and led the superpowered drama No Ordinary Life. His more recent credits include the TV series Vegas and American Horror Story: Freak Show. Currently he's shooting Rupture, a sci-fi thriller starring Noomi Rapace.
Gotham Season 2 begins September 21 at 8 PM on Fox.