'Spectre' Trailer: James Bond Battles Shadows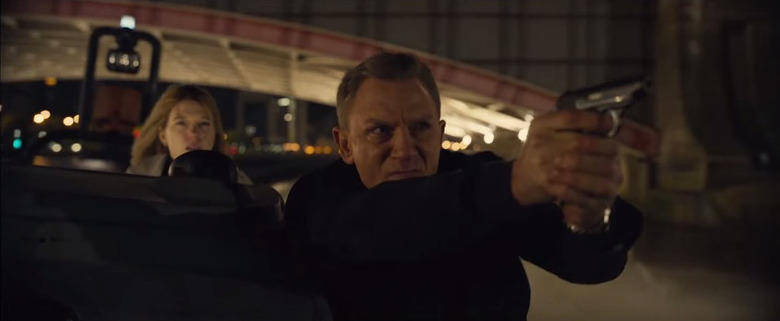 The first teaser trailer for Spectre, the 25th James Bond film, dropped a few stunning plot hints, including the suggestion that Bond (played once again by Daniel Craig) has some direct link to the organization Spectre, and perhaps more than one link at that. The first extended TV spot had many flashes of action.
Now we've got the new Spectre trailer — the first full-length trailer for the movie, in fact — with a lot more footage, and even more info for Bond fans to chew on. There's action in Mexico, a few cheeky lines, some new gear courtesy of Q, and a lot more mystery around that evil organization, Spectre, which turns out to have deep roots in Bond's own past. Check it out below!
Seeing Christoph Waltz claim to be the author of all James Bond's pain is pretty great, even if he is still denying that he plays Blofeld. Add all that to what we learned earlier this week about roles played by three women new to the Bond series, and one returning player:
Naomie Harris is back as Eve Moneypenny, reprising her role from Skyfall, who is a bit more desk bound in this film after the events of the last.
Monica Bellucci (The Matrix Reloaded, Irreversible) is Lucia Sciarra, a new widow after the murder of her Mafia husband.
Léa Seydoux (Mission: Impossible – Ghost Protocol, Blue Is the Warmest Color) is Madeleine Swann, a doctor and daughter of a professional assassin.
Stephanie Sigman (The Bridge) is Estrella, a mysterious woman whose path Bond crosses while in Mexico.
Sam Mendes directs. Spectre also stars Ralph Fiennes, Ben Whishaw, Andrew Scott, and Dave Bautista.
Spectre is set for release in the UK on October 26, 2015, and in the US on November 6, 2015. Trailer via Sony.
In SPECTRE, a cryptic message from Bond's past sends him on a trail to uncover a sinister organization. While M battles political forces to keep the secret service alive, Bond peels back the layers of deceit to reveal the terrible truth behind SPECTRE. Sam Mendes returns to direct SPECTRE, with Daniel Craig reprising his role as 007 for the fourth time. SPECTRE is produced by Michael G. Wilson and Barbara Broccoli, from a script by John Logan and Neal Purvis & Robert Wade.