Star Wars Bits: Phil Tippett Provides Old-School Revival For 'The Force Awakens,' Plus New Art, 'Rogue One' Rumor, And A Charity Auction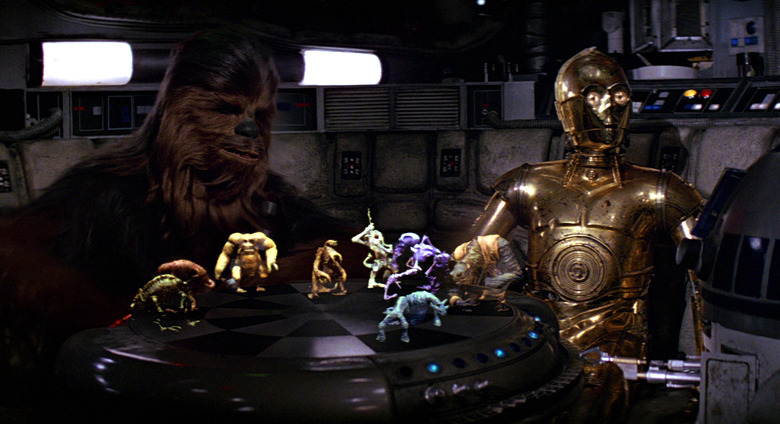 In a video interview from Comic Con, Mythbuster Adam Savage teased having had the opportunity to watch part of The Force Awakens filming that calls back to the original trilogy, and the details will probably excite fans. In addition to that video, this edition of Star Wars Bits features the following:
Xbox One users get to play some of Star Wars Battlefront a week early,
Set construction for Rogue One reveals a new detail,
New graphics featuring ships from The Force Awakens,
A charity auction offers a chance for a private Force Awakens screening at Lucasfilm,
Rumors surface of a Star Wars theme park attraction in the US before 2015 ends,
And international release dates are confirmed for The Force Awakens.
Here's the video interview with Adam Savage, via io9:
So Phil Tippett brought the chess game on the Millennium Falcon back to life, with old-school animation effects. That sounds terrific.
***
Do you have an Xbox One and an EA Access account? If so, you'll apparently get six hours of play time on Star Wars Battlefront one week before release. The basic info comes from Phil Spencer, with Making Star Wars filling in the details about the limited play time.
@MJC3809 @majornelson @EAAccess @XboxQwik @DMC_Ryan Yes you can play SW: Battlefront first on Xbox One, exclusively with @EAAccess

— Phil Spencer (@XboxP3) July 20, 2015
***
Minor potential spoilers on this one.
Set construction has been going on for the Star Wars Anthology film Rogue One, which is expected to begin shooting in early August under the direction of Gareth Edwards. (There have even been rumors of early pre-production shooting taking place.) A source tells Making Star Wars that "There are Mositure Vaporators turning up. No sign of sand...yet." That suggests a desert planet along the lines of Tatooine or Jakku, but we don't know any more details at this point.
End minor potential spoilers.
***
Making Star Wars points to images that purportedly come from "a big chain toy retailer's in-store graphics" that will be used on or before Force Friday to promote the sale of new merch.
Here are the graphics:
***
The website If Only presents a charity auction, benefiting The Charlotte and Gwenyth Gray Foundation, which will give the winner and five other people the opportunity to screen The Force Awakens at Lucasfilm, and get a private behind the scenes tour. The screening will take place at some point after December 21, on a date agreed upon by Lucasfilm and the winner.
Oh, and the minimum bid is $5000. Here are a few more details.
Take a private, behind-the-scenes tour of the legendary Lucasfilm studios while you're there for the film screening. The facility is also home to Industrial Light & Magic, which set the standard for visual effects and, in the process, created some of the most stunning images in the history of film. Walk among blockbuster classics such as Star Wars and Indiana Jones and see their collection of movie memorabilia. This is an unbelievable opportunity for any Star Wars fan.
***
News is slowing rolling out about new Star Wars attractions in theme parks around the globe, with the Shanghai Disneyland park slated to receive the Star Wars Launch Bay, which "is expected to be part store, part museum, and part interactive experience with places to buy Star Wars merchandise, see Star Wars props and concepts, and interact with Star Wars characters," per StarWars7News.
Now the site points to a report from Screamscape that suggests the Launch Bay could also land in the US as a replacement for the Innoventions pavilion in Disneyland's Tomorrowland, possibly even before The Force Awakens opens in December. There are also rumblings about the Launch Bay opening in Orlando, in the Disney Animation Building at Walt Disney World resort in Orlando, but that report seems more sketchy at this point.
***
Finally, there's this bit on international release dates for The Force Awakens. While the film opens on December 18 in the US, it will begin to roll out in other countries as early as December 16. Those dates now seem to be confirmed for countries including the Netherlands and Belgium. There is, however, no international release date for China, which may be a huge market for the film in the long run. [Jedi News]