'American Ultra' Trailer: Jesse Eisenberg And Kristen Stewart Get Tazed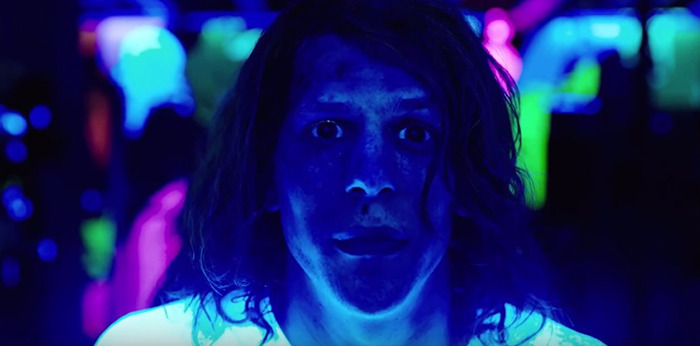 Sleeper agents are terrifying when they're enemy forces, but we love making heroes out of the home-grown version. (See: all those Bourne films.) But what about when the sleeper agent is a stoner working at a convenience store? In American Ultra, Jesse Eisenberg is that guy, and when he's "activated" via a code phrase he finds himself killing strangers with spoons and freaking out his girlfriend, played by Kristen Stewart. But at least, as this new American Ultra trailer shows, all the violence also gives them the opportunity to enjoy a romantic bit of couples tazing.
Nima Nourizadeh (Project X) directs this one, which was written by Max Landis (Chronicle), whose tweaked sense of humor seems to be all over the movie. (If this and prior trailers are any indication, at least.) American Ultra also stars Connie Britton, Topher Grace, Tony Hale, John Leguizamo, Bill Pullman and Walton Goggins.
I'm a sucker for variations on gunplay gags, and that cast iron pan gag idea is great. Who cares if it would actually work? And it's fun seeing Eisenberg and Stewart go into full-on action/comedy mode, because it looks like they're having a great time with it. Judging by accounts from set visits (such as the one chronicled here) Eisenberg really got into the action for the extended shoot-out scenes, too.
American Ultra opens on August 21. This new trailer comes via YouTube.
American Ultra is a fast-paced action comedy about Mike (Eisenberg), a seemingly hapless and unmotivated stoner whose small-town life with his live-in girlfriend, Phoebe (Stewart), is suddenly turned upside down. Unbeknownst to him, Mike is actually a highly trained, lethal sleeper agent. In the blink of an eye, as his secret past comes back to haunt him, Mike is thrust into the middle of a deadly government operation and is forced to summon his inner action-hero in order to survive.