'Some Kind Of Beautiful' Trailer: Pierce Brosnan Sleeps Around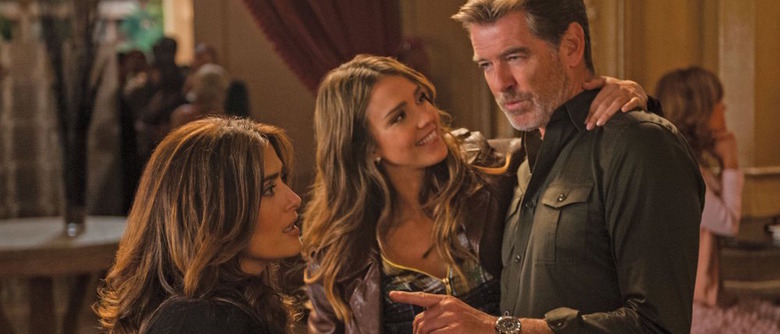 You can take the man out of the James Bond franchise, but you can't take the James Bond franchise out of the man. Or so it seems based on the Some Kind of Beautiful trailer, which stars Pierce Brosnan as a notorious British womanizer. Sound familiar?
But while 007's adventures usually revolved around assassins, femmes fatale, and megalomaniacs, the issues here are more mundane — marriage, a kid, an awkward love triangle. (Of course, given that said love triangle involves Salma Hayek and Jessica Alba, you could argue his problems are just as exciting.) Watch the Some Kind of Beautiful trailer after the jump. 
Lionsgate debuted the Some Kind of Beautiful trailer. That painfully generic title is a definite step down from the original one, How to Make Love Like an Englishman.
Brosnan plays Richard Haig, a well-liked Cambridge professor whose after-hours hobbies include sleeping with his students. Everything changes, however, when his young American girlfriend Kate (Alba) informs him she's pregnant. He gives up the bachelor lifestyle to move to follow her back to Los Angeles, get married, and raise a kid... only to get dumped when Kate falls for someone else.
But that might actually work out just fine for him, because the real love of his life is Kate's worldly older sister Olivia (Hayek). And Olivia adores him right back. Now the problem seems to be getting everyone's family issues sorted out so they can all live happily ever after. Overall, it looks like a pretty standard romcom that we can hope will be elevated by the charms of Brosnan and Hayek.
Some Kind of Beautiful is directed by Tom Vaughn, whose credits include the Ashton Kutcher romcom What Happens in Vegas and the retroactively star-studded Starter for 10. It hits DirecTV July 23 before rolling out into theaters and VOD August 21.