'The Gift' Trailer #2: Jason Bateman's Past Comes Back To Haunt Him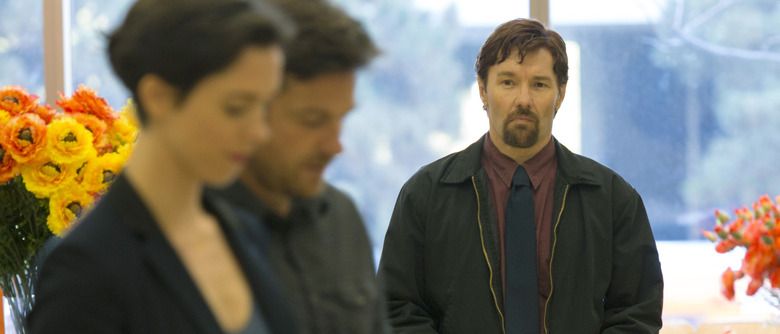 After a promotional campaign that got off to an extraordinarily creepy start, The Gift went relatively quiet for the past couple of months. But perhaps it was just been lulling us into a false sense of security, because now the thriller is back with another unsettling trailer.
Joel Edgerton's directorial debut stars himself as Gordo, who reconnects with an old classmate named Simon (Jason Bateman). But their reunion isn't as fortuitous as it seems. Gordo apparently harbors an ancient grudge against Simon, and his reappearance threatens to destroy Simon completely. Rebecca Hall stars as Simon's wife Robyn. Watch the new The Gift trailer after the jump.
STX Entertainment shared the latest The Gift trailer on YouTube.
Only the second half of the new The Gift trailer is footage from the film, but the first half does a great job of establishing the film's tone and premise. I don't know about you, but I found myself thinking back to my adolescence and praying I hadn't pissed off any psychopaths.
STX Entertainment opens The Gift on August 7.
Can you really go through life having never wronged anyone? Even if you are unaware of how, or when, and even who you may have wronged....chances are there is someone out there who won't ever forget it...or you.
Simon (Jason Bateman) and Robyn (Rebecca Hall) are a young married couple whose life is going just as planned until a chance encounter with an acquaintance from Simon's high school sends their world into a harrowing tailspin. Simon doesn't recognize Gordo (Joel Edgerton) at first, but after a seemingly coincidental series of encounters proves troubling, a horrifying secret from their past is uncovered after nearly 20 years. As Robyn learns the unsettling truth about what happened between Simon and Gordo, she starts to question: how well do we really know the people closest to us, and are past bygones ever really bygones?
From the producer of Whiplash and The Purge, Jason Blum, comes a chilling psychological thriller that marks the feature directorial debut of acclaimed actor and writer Joel Edgerton (The Great Gatsby, Zero Dark Thirty, Warrior).