Cool Stuff: Gallery 1988's 'Both Sides: An Art Show Celebrating Heroes & Villains' With Dan Mumford & Jeff Boyes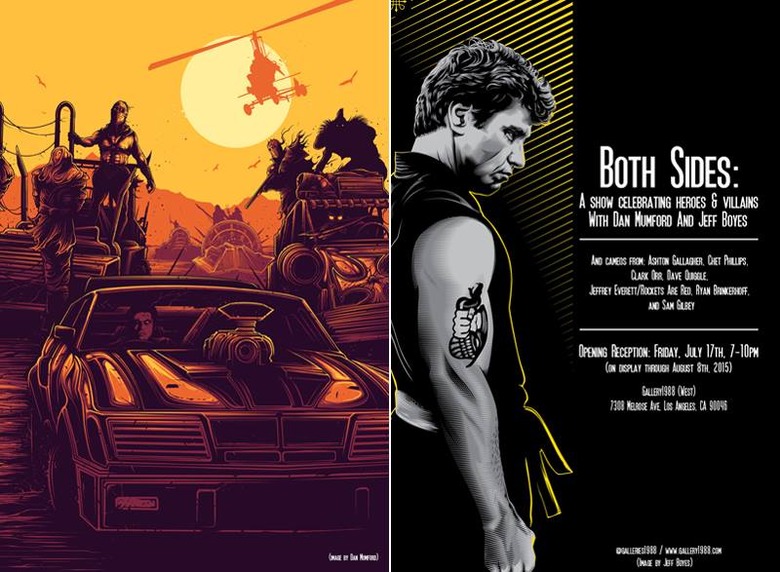 Tomorrow night kicks off Gallery 1988's Both Sides: An Art Show Celebrating Heroes & Villains featuring artwork by Dan Mumford and Jeff Boyes, two pop culture artists we've featured on the site previously. The show will also feature some "cameo" artwork from Ashton Gallagher, Chet Phillips, Clark Orr, Dave Quibble, Jeffrey Everett/Rockets are Red, Ryan Binkerhoff and Sam Gilbey. Hit the jump to get a preview of some of the artwork from the show.
I love the detail on the two Jeff Boyes Karate Kid prints. You haven't seen these pieces until you've clicked on the close-up images of either of these prints, fantastic detailing.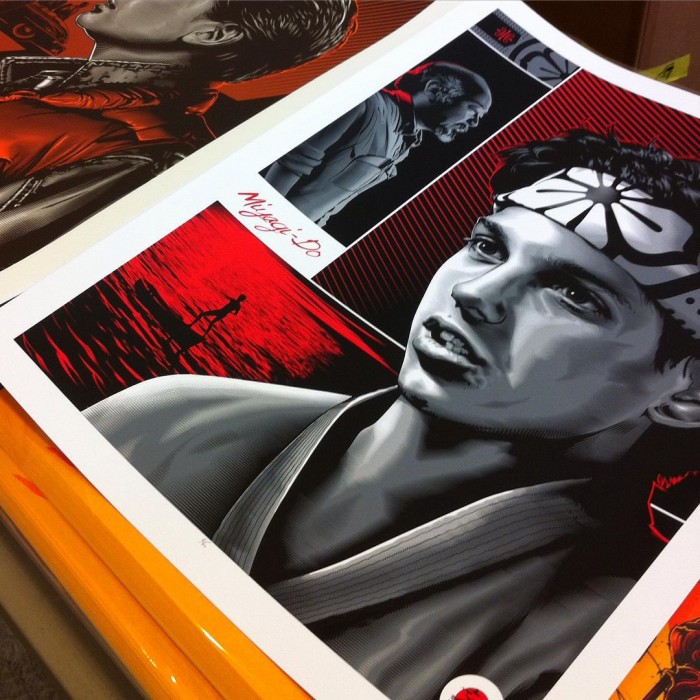 I'm most curious about the Marty McFly Back to the Future print tease by Jeff Boyes in his shot of the screen printed and signed Daniel LaRusso piece (look at the top left of that image). I imagine that this, like the Karate Kid print, is part of a series which features one with the heroes and the other with the villains (Biff...etc). If so, I'm going to be spending a lot of money on Friday.
Official information from Gallery 1988:
Join us TOMORROW NIGHT from 7-10 PM at G1988 (West) for the opening of Both Sides, a show celebrating heroes & villains. The show features work from Jeff Boyes & Dan Mumford, with special appearances from other artists (including Sam Gilbey above). This exhibit is filled with great limited edition prints, make sure to check it out. Work will be available online Saturday afternoon.
Both Sides: An Art Show Celebrating Heroes & Villains opens Friday July 17th 2015 from 7-10pm at Gallery 1988 West Hollywood, located on 7308 Melrose Avenue in Los Angeles, California.