First Look: 'X-Men: Apocalypse' Reveals Apocalypse, Psylocke, Magneto, And More [UPDATED]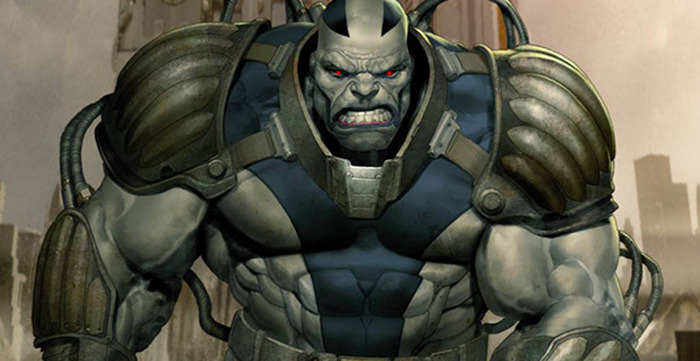 The end is pretty much always nigh in the X-Men universe, but next year our superheroes will truly face the Apocalypse — that is, a 5,000-year-old mutant who goes by the name Apocalypse, played by Oscar Isaac. Today we finally get a peek at this fearsome villain, plus Psylocke (Olivia Munn), Magneto (Michael Fassbender), and many more. Get your X-Men Apocalypse first look after the jump.
Update: Even more images have been revealed, this time of the "new" characters including Cyclops and Jean Grey. See them all after the jump! EW served up the X-Men Apocalypse first look, as well as a whole bunch of new details about the movie.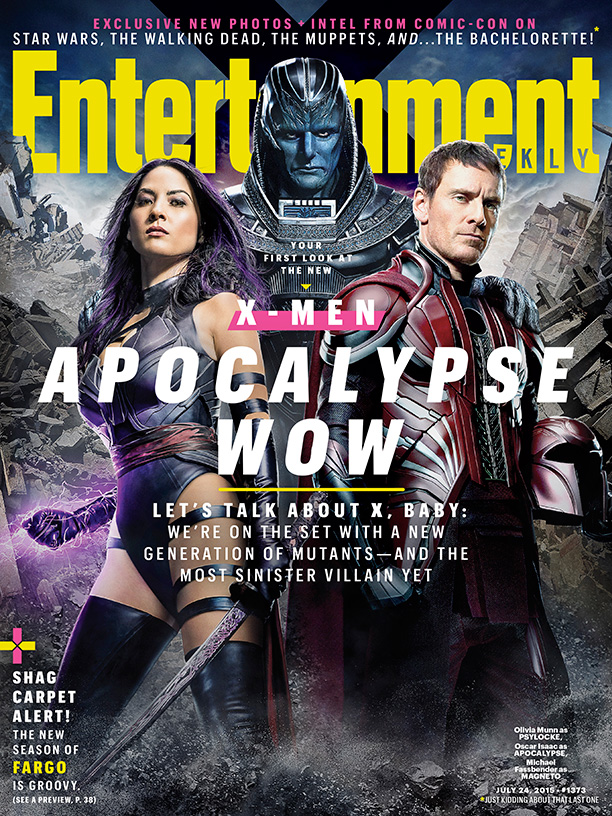 Isaac is nearly unrecognizable as the blue-skinned Apocalypse, but we've got high hopes his charisma will shine through all the same. Fassbender's Magneto has a snazzy new costume (compare it to the relatively streamlined one he wore in X-Men: Days of Future Past) and a grumpy expression. On the flip side, Psylocke's uniform might seem familiar even though she's new to this universe. It's basically just a movie-fied version of her look in the comics.
X-Men: Apocalypse is intended to both close out the current chapter of the franchise, and open a new one. To that end, it'll feature a bunch familiar characters, as well as new versions of familiar characters including Jean Grey (Sophie Turner), Cyclops (Tye Sheridan), and Nightcrawler (Kodi Smit-McPhee).
The story picks up about ten years after the events of X-Men: Days of Future Past (the events in the past parts of the movie, that is, not the future parts). Apocalypse — "believed to be the first mutant," Isaac explains — emerges from his Egyptian tomb and determines that the world would be a lot better off if he were in charge.
To aid in that quest, Apocalypse recruits special help including Magneto, who's peacefully living out his days in Poland. "He's fallen in love and he's basically left his metal ways behind," says Fassbender. But when things go awry, "Apocalypse finds Erik at a low ebb and recruits him." Magneto becomes one of four Horsemen, the others being Psylocke, Storm (Alexandra Shipp), and Angel (Ben Hardy).
As Apocalypse ramps up his efforts to take over, the other mutants including Raven (Jennifer Lawrence), who's been off saving other mutants, and Charles (James McAvoy), who's been teaching young mutants to control their powers, must band together to fend off this potentially world-destroying threat.
For a rundown of what we saw from X-Men: Apocalypse at Comic-Con, click here. The film opens May 27, 2016 and also stars Nicholas Hoult, Lucas Till, Rose Byrne, Evan Peters, and Lana Condor. Bryan Singer returns to direct.
Update: Here are new photos of Jean, Cyclops (described as a "bad boy"), Nightcrawler (the "comic relief"), Storm, and Jubilee, also from EW.