See The Latest 'Deadpool' Photos In High Resolution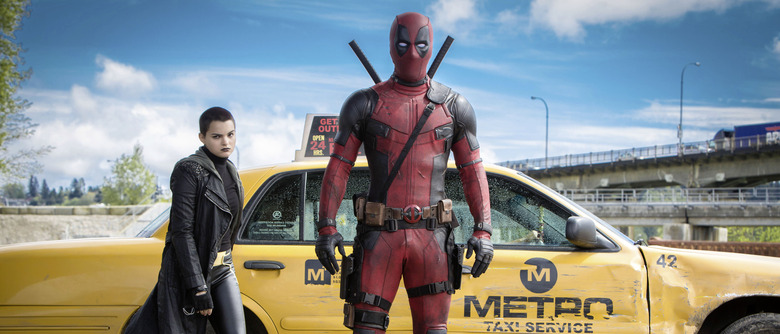 Deadpool made a huge mark on Comic Con, and there will be an official footage release within weeks. (We haven't confirmed whether or not that will be precisely the same footage shown at Comic Con, or some variation, but we do expect that Fox knows people outside the convention want to see something close to what was in Hall H.) Now, at the very least, you can get a look at the last batch of Deadpool photos, now in high resolution. Check those out after the break. 
These come via Fox; photo credit to Joe Lederer and David Dolsen. Ryan Reynolds plays Wade Wilson, who accepts what he things to be an experimental cancer treatment, only to find himself dreadfully scarred and imbued with incredible healing powers. In photos below you'll also see Vanessa (Morena Baccarin); Angel Dust (Gina Carano) giving a hand to barkeep Weasel (T.J. Miller); Ed Skrein as the sadistic Ajax; and Brianna Hildebrand as the mutant Teenage Negasonic Warhead.
Tim Miller directed Deadpool from a script by Rhett Reese and Paul Wernick (Zombieland). The R-rated film opens on February 12, 2016.
Based upon Marvel Comics' most unconventional anti-hero, Deadpool tells the origin story of former Special Forces operative turned mercenary Wade Wilson, who after being subjected to a rogue experiment that leaves him with accelerated healing powers, adopts the alter ego Deadpool. Armed with his new abilities and a dark, twisted sense of humor, Deadpool hunts down the man who nearly destroyed his life.
Ryan Reynolds stars as the title character alongside T.J. Miller as Weasel, Gina Carano as Angel Dust, Brianna Hildebrand as Negasonic Teenage Warhead, Morena Baccarin as Copycat and Ed Skrein as Ajax. The film will also feature the mutant Colossus.