Sequel Bits: 'Star Trek Beyond', 'Resident Evil: The Final Chapter', 'Hellboy 3', 'Kill Bill 3', 'Predator'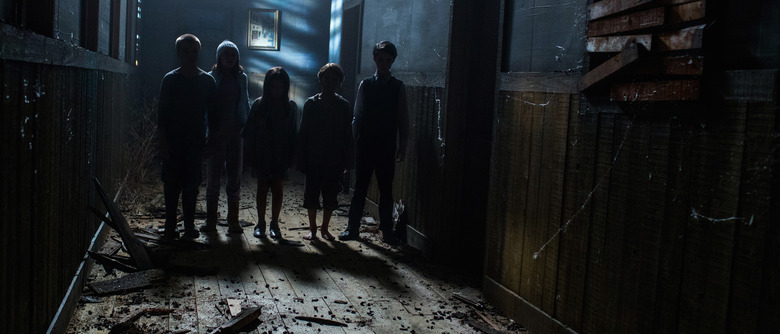 We've got a lot of ground to cover today, so let's get right to it. After the jump:
Arnie is optimistic about Shane Black's Predator sequel.
Terminator 5 scribes talk James Cameron, time travel, and deleted scenes.
Samuel L. Jackson is totally up for another Unbreakable movie.
Quentin Tarantino wants to make a third Kill Bill someday.
The M:I5 plane stunt was inspired in part by Uncharted.
Pacific Rim 2 could help get Hellboy 3 made... if it's a hit.
Sinister 2 distributes a series of creepy "collector's cards."
Patrick Wilson shares a photo from the Conjuring 2 set.
Milla Jovovich gets to work on Resident Evil: The Final Chapter.
Donate to charity for a chance to win a role in Star Trek Beyond.
LeBron James (jokingly) pitches an idea for Trainwreck 2.
***
Arnold Schwarzenegger knows you didn't like the Predator sequels. "So far, no Predator [movie], no matter which one they did after the first one, has been satisfactory to the audience," he said.
Still, he has high hopes for Shane Black's upcoming reboot / sequel – even though, he stresses, he has not been asked to return. "[Black is] a very talented guy, and a great, great director, so if he would do it, it will become a great, great movie whether I'm in it or not."
***
Screenwriters Laeta Kalogridis and Patrick Lussier didn't want to write Terminator: Genisys, at least at first. She explains:
We truly said "Hell no" three times. [...] This is something to approach with a great deal of respect and trepidation. It's like walking into a house someone else built, and trying to create something worthy of the structure already standing, where you want to give it value and not detract value.
Of course, they eventually came around. Read the full interview at Creative Screenwriting for much more, including details on a cut scene and their approach to time travel paradoxes.
***
Samuel L. Jackson is totally up for an Unbreakable sequel. "Night's still around. Bruce is still around. I'm still around," he told EW. "And I'd love to break out of the asylum." But he might want to take that up with director M. Night Shyamalan, who's said he'd only do another Unbreakable if he could find a "completely original take."
***
Quentin Tarantino still really wants to make a third Kill Bill, as he revealed last weekend at Comic-Con:
Never say never, we'll see, when it comes to Kill Bill 3. [Uma Thurman] would really like to do it, we talk about it every once in awhile or so — we've got to wait for Vernita's daughter to get old enough to go and kill her.
Knowing Tarantino it seems likelier that the real holdup is his tendency to talk up projects he never ends up making, but keep hope alive, I guess. [via The Playlist]
***
How does one even come up with the idea to strap Tom Cruise to the side of a moving airplane, a la Mission: Impossible – Rogue Nation? According to director Chris McQuarrie, the stunt was inspired in part by Uncharted games. Which is kind of funny because as Uncharted lead animator Jeremy Yates admits, their games are inspired in part by the Mission: Impossible films.
@chrismcquarrie @NickFromHamburg This feels like a full circle moment right here. We've definitely studied M.I. closely quite a few times.

— Jeremy Yates (@Jeremy_Yates) July 13, 2015
[via Bleeding Cool]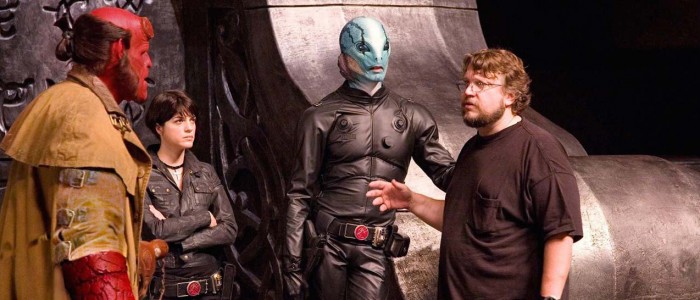 If there's a sliver of hope for Hellboy 3, it lies in Pacific Rim 2. Director Guillermo del Toro revealed to The Daily Beast that Legendary has told him if Pacific Rim 2 is a hit, they'll consider financing Hellboy 3. If not, well, things look a little less promising:
The hard fact is that the movie's going to need about $120 million and there's nobody knocking down our doors to give it to us. It's a little beyond Kickstarter.
Meanwhile, star Ron Perlman definitely seems to feel the pressure. He told CBR:
We didn't have the biggest audience of any comic

book movie

, but the people who came came, and they loved it and invested in it. And my point is we owe them the result, we owe them the conclusion. I don't want to go back and put on 4 ½ hours worth of fucking makeup every day. I don't want to do that. I want to do that as much as I want a colonoscopy. But we have to! In my mind, it's not even negotiable.
***
Sinister 2 has released a series of "collectors' cards," because who doesn't like collecting horrifying supernatural methods of death?
Creeeeepy. The horror sequel follows the evil spirit Bughuul as it haunts a new family — a mom (Shannyn Sossamon) and her twin sons (Robert and Dartanian Sloan), who've just moved into a rural house. Ciaran Foy (Citadel) directs. The film opens August 21. [Shock Till You Drop]
***
It took some time, but The Conjuring 2 is finally getting going. Patrick Wilson shared a photo of himself with co-star Vera Farmiga on set.
We're baaaaaack. @creepypuppet @VeraFarmiga @theconjuring pic.twitter.com/jCdq4PqoVF

— patrick wilson (@patrickwilson73) July 8, 2015
James Wan returns to helm The Conjuring 2, which was the reason for the delay — he took some time to go make Furious 7. Now it's on track to open June 10, 2016.
***
Resident Evil: The Final Chapter got pushed back for a while so star Milla Jovovich and director Paul W.S. Anderson could have a kid, but now they're finally ready to get back to work. Jovovich shared a photo of herself prepping for the shoot.
Wentworth Miller is also expected to return. As the title suggests, Resident Evil: The Final Chapter will be the last film in the series.
***
Explore the set of Star Trek Beyond via video, and then enter a chance to explore it for real with Omaze. Or don't. Either way, you'll want to stick around til this video for Idris Elba's sweet dance moves.
Get all the details at Omaze. Directed by Justin Lin, Star Trek Beyond opens July 8, 2016.
***
Trainwreck isn't even in theaters yet, but star LeBron James already has an idea for a Trainwreck 2. Specifically, a Birdman-esque sequel that immediately kills off Bill Hader.
Yes, it's just a gag, but admit it — you'd totally watch it. [Funny or Die]