Latest 'Legends Of Tomorrow' Trailer Emphasizes Show's Comic Book Roots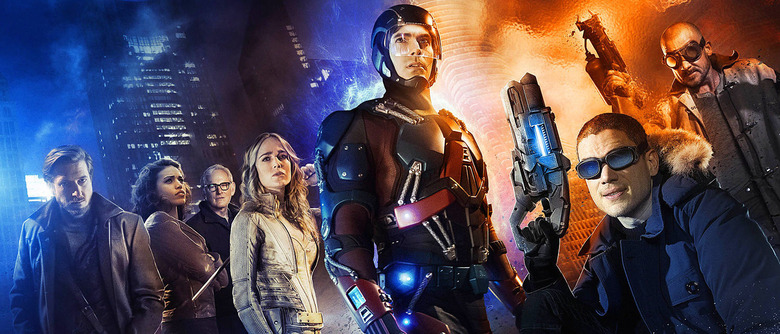 You don't have to be a comic book aficionado to follow along with Legends of Tomorrow, The CW's third DC shared universe series. Nevertheless, the franchise is proud of its roots, and leans hard into its comic book origins in the latest promo. Watch the new Legends of Tomorrow trailer after the jump.
The new Legends of Tomorrow trailer is really just a CW DC-verse trailer, as it also promotes Arrow (which is entering Season 4 this fall) and The Flash (which is entering Season 2).
The Legends of Tomorrow trailer doesn't really tell us anything we didn't already know, but it's fun to compare the TV versions of these characters to their comic book originals. Some of these renditions look more faithful than others.
And there are a lot of superheroes here. Most of them including Martin Stein / Firestorm (Victor Garber), Leonard Snart / Captain Cold (Wentworth Miller), Mick Rory / Heat Wave (Dominic Purcell), Ray Palmer / Atom (Brandon Routh), and Sara Lance / White Canary (Caity Lotz) have previously appeared on Arrow or The Flash – or, in Atom's case, both.
But there are several new ones as well, including time traveler Rip Hunter (Arthur Darvill), one-half-of-Firestorm Jay Jackson (Franz Draeh), and reincarnating winged lady Kendra Saunders / Hawkgirl (Ciara Renee). Hawkman is expected to appear in Legends of Tomorrow as well, but doesn't show up here.
Legends of Tomorrow premieres this fall on The CW.
When heroes alone are not enough... the world needs legends. Having seen the future, one he will desperately try to prevent from happening, time-traveling rogue Rip Hunter is tasked with assembling a disparate group of both heroes and villains to confront an unstoppable threat — one in which not only is the planet at stake, but all of time itself. Can this ragtag team defeat an immortal threat unlike anything they have ever known?