'Joy' Trailer: Jennifer Lawrence, Bradley Cooper, And Robert De Niro Reunite With David O. Russell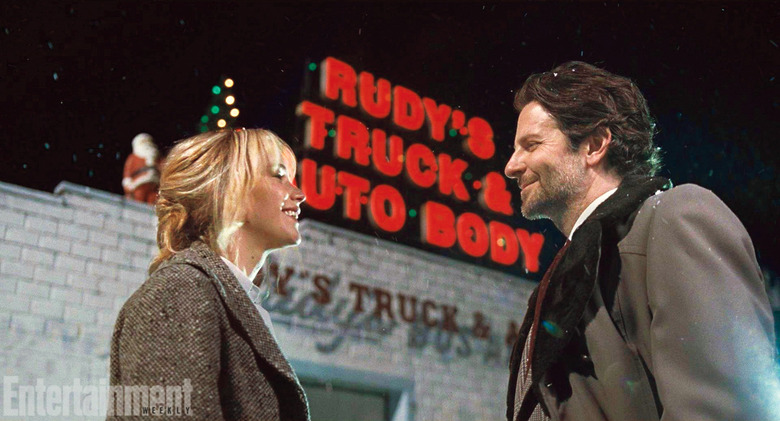 Following Silver Linings Playbook and American Hustle, Jennifer Lawrence, Bradley Cooper, Robert De Niro, and director David O. Russell are teaming up a third time for this winter's Joy. The film follows a struggling single mom who overcomes personal and professional hardship to becomes a massively successful businesswoman. Watch the Joy trailer after the jump.
20th Century Fox unveiled the Joy trailer on YouTube, and EW supplied the accompanying photos.
Speaking to EW, Russell described Joy as "an epic, unexpected story about the interior life of one woman's soul, from the ages of 10 to 40." He continued:
What's it like to become a boss and the godmother of a family and dynasty, both emotionally and commercially? You go inside that person's soul, and it's alternately hilarious, horrifying, and sort of joyous. Relationships are always complex, and nobody gets to success without breaking some of their own bones—and other people's, too.
If Joy is anything like this quartet's last four films together, expect it to be all over next year's awards race. Joy opens December 25, 2015. Édgar Ramirez, Virginia Madsen, Diane Ladd, Isabella Rossellini, and Elisabeth Rohm also star.
JOY is the wild story of a family across four generations centered on the girl who becomes the woman who founds a business dynasty and becomes a matriarch in her own right. Betrayal, treachery, the loss of innocence and the scars of love, pave the road in this intense emotional and human comedy about becoming a true boss of family and enterprise facing a world of unforgiving commerce. Allies become adversaries and adversaries become allies, both inside and outside the family, as Joy's inner life and fierce imagination carry her through the storm she faces. Jennifer Lawrence stars, with Robert De Niro, Bradley Cooper, Edgar Ramirez, Isabella Rossellini, Diane Ladd, and Virginia Madsen. Like David O. Russell's previous films, Joy defies genre to tell a story of family, loyalty, and love.