Bran Stark Will Be Back For 'Game Of Thrones' Season 6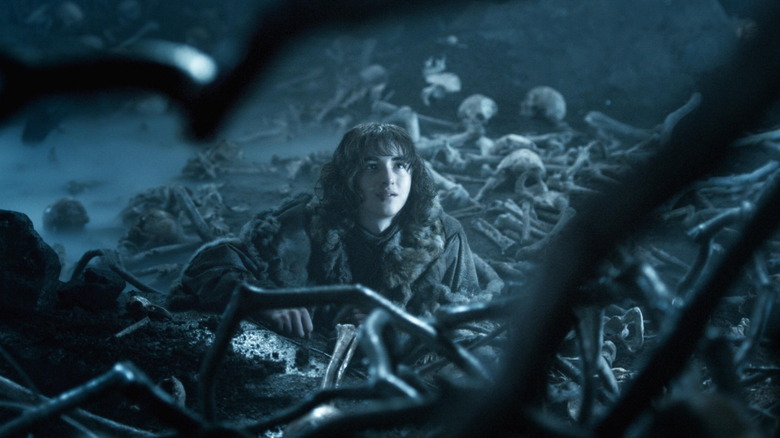 Game of Thrones didn't reveal any new cast members at Comic-Con this year, but we do have word on one old cast member who's ready to come back. Isaac Hempstead-Wright, who plays Bran Stark, has confirmed he'll return for Season 6 after sitting out Season 5. Read Hempstead-Wright's comments on the Game of Thrones Season 6 Bran plans after the jump. 
Hempstead-Wright revealed his Season 6 return in an interview with the Irish Examiner. "I can't say a lot but I am back this season, and it's going to get particularly interesting with Bran," he said. "He has some interesting visions."
The last we saw of Bran, he'd finally reached the three-eyed raven (who actually looks like an old man tangled in the roots of a weirwood tree), and been told that while he would never walk again, he would fly. Meera and Hodor were with him, so if Hempstead-Wright is in Season 6, it seems very possible that Ellie Kendrick and Kristian Nairn will be too.
At this point, Game of Thrones' Bran has more or less caught up to the character's storyline in the books, so there's no telling where the character will go next. But Hempstead-Wright still has some catching up to do. The actor admitted he hasn't yet seen Season 5:
I missed the whole of the last season because it was right in the middle of my exams, so I didn't have the time to watch it. But I'm looking forward to getting with some friends and binge-watching it all.
However, it seems he has been spoiled about at least one major event, as (spoiler for watchers not caught up, obviously) he's already got his fingers crossed for Kit Harington to return as Jon Snow. "I don't know (if he will come back). He said he's not," he said. "I wish he would because I love Kit and because the character's so cool. Who knows? We start filming series six at the end of this month so we'll see."
Game of Thrones Season 6 premieres in 2016.