Tom Cruise Is Terrified In 'Mission: Impossible - Rogue Nation' Plane Stunt Featurette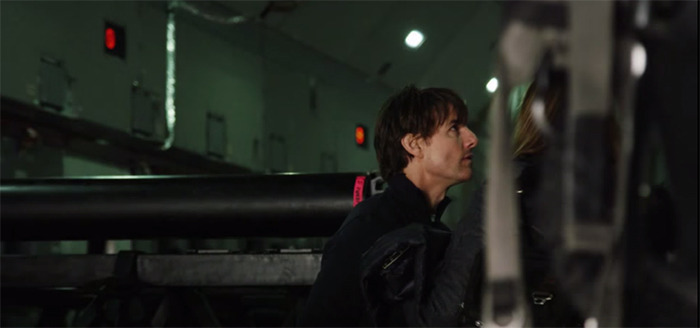 The mythology of Tom Cruise expands in a new Mission: Impossible – Rogue Nation featurette that shows a glimpse into the preparation and shoot of a stunt that had Cruise strapped to the site of an airplane in flight. We've known about the stunt for over a year, as paparazzi photos and video captured the shoot. The scene plays heavily in marketing for the film, with posters and trailers showing wind-battered Cruise strapped to the plane's door.
And yet it is still neat to hear him talk about being terrified of doing the shot, because it's great to know that even megastars who can buck the standard Hollywood insurance policy get scared before doing something insane. And even with multiple safety straps and a great rigging and stunt team, this is still insane.
Check out the Mission: Impossible – Rogue Nation airplane stunt featurette below.
Eight takes. That's great. I'd love to know if the fear decreased after the first take, or if doing each one was consistently terrifying.
Mission: Impossible Rogue Nation opens on July 31. Featurette via Paramount.
With the IMF disbanded and Ethan (Tom Cruise) out in the cold, the team now faces off against a network of highly skilled special agents, the Syndicate. These highly trained operatives are hellbent on creating a new world order through an escalating series of terrorist attacks. Ethan gathers his team and joins forces with disavowed British agent Ilsa Faust (Rebecca Ferguson), who may or may not be a member of this rogue nation, as the group faces its most impossible mission yet. Starring Tom Cruise, Jeremy Renner, Simon Pegg, Rebecca Ferguson, Ving Rhames, Sean Harris, Simon McBurney, Zhang Jingchu and Alec Baldwin.
The film is directed by Christopher McQuarrie, with a screenplay by Christopher McQuarrie and story by Christopher McQuarrie and Drew Pearce. Based on the television series created by Bruce Geller. Produced by Tom Cruise, J.J. Abrams, Bryan Burk, David Ellison, Dana Goldberg and Don Granger. Executive produced by Jake Myers.