'Suicide Squad' Trailer: The Comic Con Sensation Gets An Official Release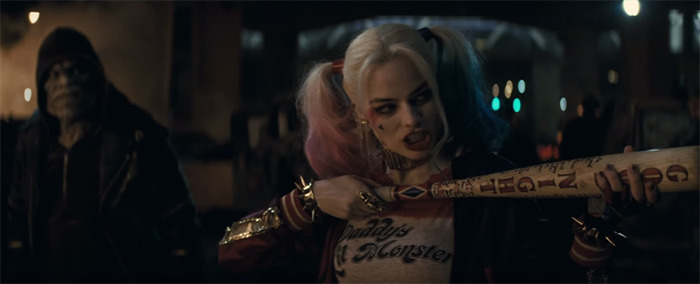 The Suicide Squad trailer was one of the big events at Comic Con during the Saturday morning Warner Bros. panel in Hall H. The footage was quickly bootlegged, and became a sensation online. Now writer/director David Ayer has worked some magic to get Warner Bros. to do an official release, and you can watch the Suicide Squad trailer — not bootlegged, and in great quality — below.
Previously, Ayer had expressed disappointment at the bootlegs going around.
Shame our sneak peek Hall H footage was leaked. #notcool
it's unfair to the fans who waited in line. And not how I intended folks to see it.

— David Ayer (@DavidAyerMovies) July 13, 2015
Warner Bros. was frustrated by the leak, too, though the studio shouldn't be surprised because this always happens. Today Sue Kroll, the studio'spresident of Worldwide Marketing and International Distribution, told Deadline,
Warner Bros. Pictures and our anti-piracy team have worked tirelessly over the last 48 hours to contain the Suicide Squad footage that was pirated from Hall H on Saturday. We have been unable to achieve that goal. Today we will release the same footage that has been illegally circulating on the web, in the form it was created and high quality with which it was intended to be enjoyed. We regret this decision as it was our intention to keep the footage as a unique experience for the Comic Con crowd, but we cannot continue to allow the film to be represented by the poor quality of the pirated footage stolen from our presentation.
Do you think a studio exec likes being forced into something they didn't plan? Better believe they don't.
So Warner Bros. has given in and released the footage, which only helps legitimize the bootlegs as a tool to encourage such a response by the studio. We'll see how this works out in the future — the obvious move by Warner Bros. is simply to avoid showing such footage at Comic Con in the future. We won't know whether the studio will do such a thing until next year, but if Comic Con 2016 rolls around and WB skimps on presentations, this will be why.
Trailer via David Ayer. Suicide Squad opens on August 5, 2016. The film is still shooting, so this is a very early look at footage.