Watch The Long 'Hannibal' Red Dragon Trailer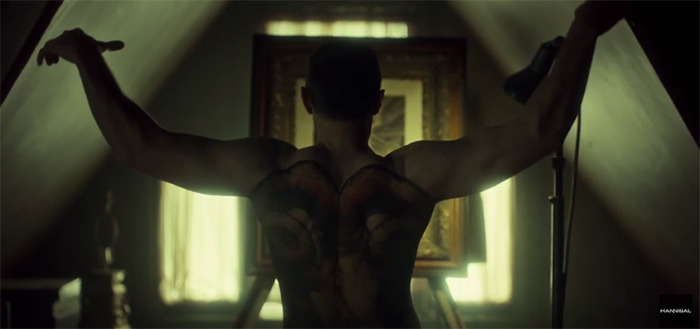 Hannibal may be ending, but it isn't over yet, with several episodes left to air in the third season. This is where the show starts to catch up to previous movie installments, too, with the character Francis Dolarhyde, aka the Red Dragon, showing up in the storyline. Richard Armitage takes over the role previously played by Tom Noonan (Manhunter) and Ralph Fiennes (Red Dragon) in feature film versions of the story.
We saw the Red Dragon in early promos for this season. Now there's a great long Hannibal Red Dragon trailer that devotes several minutes to promoting the appearance of the character. Watch below.
This came out of Comic Con, and the Hannibal panel that took place on Saturday July 11.
Richard Armitage explained how the show will differ from previous film portrayals of his character:
There were two movies that spent about 90 minutes on that story, but we have six episodes and the book [Red Dragon] is incredibly detailed. So we get to look at the backstory and open up that story to include his innocence with his darkness. His story isn't told in a linear way. You learn of his crimes first, and then retrace where they came from.
Show creator Bryan Fuller said this incarnation of the Red Dragon and his role in the story will "change the Hannibal Lecter and Will Graham dynamic in a huge way—which would reinvent the format of how we tell the show," at least if the fourth season manages to happen. If there were a fourth season, which still doesn't seem terribly likely, or even a feature film follow-up, expect the Hannibal/Graham relationship to work almost as a twisted version of the first-season dynamic.
Trailer via NBC. Hannibal has been airing on Thursdays, at 10/9c, but as of today there's an announcement that the show is moving to Saturdays, where it will sit for the rest of its run.
Watch the full Comic Con panel below.