'Crimson Peak' Maze Coming To Universal Halloween Horror Nights [Comic-Con 2015]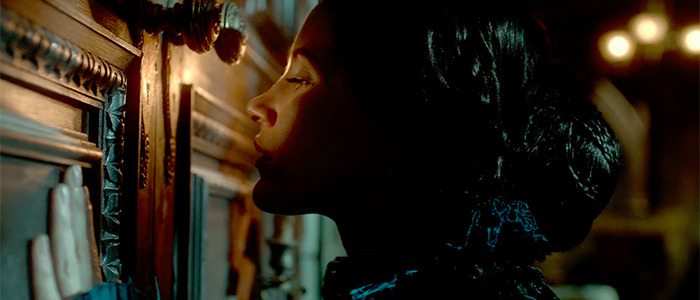 Guillermo del Toro's Crimson Peak features an all-star cast and a twisty plot, but one of its biggest draws is the setting — a huge, creaky, creepy Victorian mansion full of rooms that mustn't be visited, secrets in every nook and cranny, and spirits that creep up from behind. And this fall, audience will get the chance to visit Crimson Peak for themselves, in the form of a new maze at Universal Studios' Halloween Horror Nights. Watch Guillermo del Toro announce the Crimson Peak Horror Nights after jump.  
"We are creating an experience, a Halloween Horror Nights at Universal," he revealed to the Hall H crowd. "I'll see you there, it's going to be terrifying." See his video announcement and the official press release below.
Universal Studios Halloween Horror Nights begin Friday, September 18 and go through November 1. Visit HalloweenHorrorNights.com for more information.
Universal Studios Hollywood Brings the Terror of Crimson Peak, from Visionary Director Guillermo del Toro, to Life in an All-Original "Halloween Horror Nights" Maze Inspired by Legendary and Universal Pictures' Highly-Anticipated Gothic Romance"Halloween Horror Nights," Southern California's Most Extreme Horror Experience, Begins Friday, September 18Universal City, California, July 11, 2015 – Legendary and Universal Pictures' much-anticipated Crimson Peak, directed, co-written and produced by celebrated filmmaker Guillermo del Toro, will come to life in a terrifying new "Halloween Horror Nights" maze beginning Friday, September 18, 2015, at Universal Studios Hollywood, it was announced today. Crimson Peak opens in theaters on October 16."Guillermo del Toro Presents Crimson Peak: Maze of Madness" will be unearthed as a three-dimensional living representation of the film, designed to send guests spiraling through the chilling world and in the footsteps of Crimson Peak's lead character, Edith Cushing, first as they venture from her home in America, then to the decaying and haunted Allerdale Hall mansion in a remote English countryside. With a foreboding "Beware of Crimson Peak" message that echos from Edith's past, guests will navigate a labyrinth of paranormal tortured souls who have born witness to the estate's dark history of unspeakable acts ...and who continue to reside in vengeful, ghostly forms."I am a devoted fan of Universal Studios' 'Halloween Horror Nights,' and I am honored to partner with them to create a real-life version of my Gothic Romance, Crimson Peak," said Guillermo del Toro. "It's a thrill to work with the movie studio that gave birth to the modern horror movie genre. I can't wait for movie-goers to enter the haunting world of Crimson Peak as they navigate this haunting maze. I can assure you, I will be first in line to experience the scares of it myself.""Guillermo del Toro is a leading visionary in film, and Crimson Peak provides endless opportunities to immerse guests into the terrifying world that he created," said John Murdy, Creative Director at Universal Studios Hollywood and Executive Producer of "Halloween Horror Nights." "From the haunting score by Fernando Velázquez to the incredibly detailed set design and scream-inducing ghosts, we will recreate an authentic experience that will have guests feeling as trapped in our 'Crimson Peak' maze as the film's lead character."About Crimson Peak: When her heart is stolen by a seductive stranger, a young woman is swept away to a house atop a mountain of blood-red clay: a place ?lled with secrets that will haunt her forever. Between desire and darkness, between mystery and madness, lies the truth behind Crimson Peak.