X-Men: Apocalypse Poster Reveals The Movie's Big Villain [Comic Con 2015]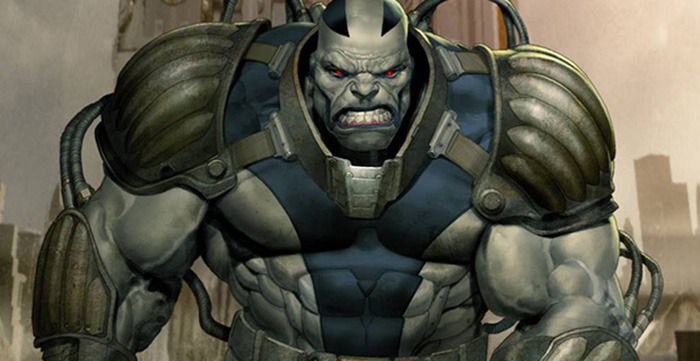 The 20th Century Fox presentation doesn't take place until later tonight in Comic Con's famed Hall H, but the studio is already promoting the next X-Men movie X-Men: Apocalypse on the streets of San Diego. The Comic Con promotional poster gives us a look at the film's big bad. Check out the X-Men: Apocalypse poster after the jump.
The art poster features the film's villain Apocalypse, who is played in the movie by Oscar Isaac, looming over a burning Xavier Mansion. Director Bryan Singer posted a video from the set of X-Men: Apocalypse last week which showed a burning wreckage which looked like it might be the grounds of the Xaviar Mansion. Here is the San Diego Comic Con International 2015 promotional poster thanks to Erik Davis on Twitter:
The apocalypse is coming! X-Men Apocalypse posters being handed out at #SDCC #XMenApocalypse pic.twitter.com/AONenHpAIO

— Erik Davis (@ErikDavis) July 11, 2015
Come back later today to find out what is revealed at the 20th Century Fox Comic Con presentation which is expected to have something from the new Bryan Singer X-Men sequel.
X-Men: Apocalypse hits theaters on May 27th, 2016. Produced by Simon Kinberg, Hutch Parker, Lauren Shuler Donner, X-Men: Apoclypse stars stars James McAvoy as Professor Charles Xavier/Professor X Michael Fassbender and Ian McKellen as Erik Lehnsherr/Magneto, Jennifer Lawrence as Raven Darkhölme/Mystique, Nicholas Hoult as Hank McCoy/Beast, Oscar Isaac as En Sabah Nur/Apocalypse, Rose Byrne as Moira MacTaggert, Tye Sheridan as Scott Summers/Cyclops, Sophie Turner as Jean Grey, Alexandra Shipp as Ororo Munroe/Storm, Kodi Smit-McPhee as Kurt Wagner/Nightcrawler, Evan Peters as Peter Maximoff/Quicksilver, Lucas Till as Alex Summers/Havok, Ben Hardy as Warren Worthington III / Angel, Lana Condor as Jubilation Lee / Jubilee, Olivia Munn as Betsy Braddock / Psylocke.