'Pride And Prejudice And Zombies' Trailer: Jane Austen's Classic Meets Hordes Of The Undead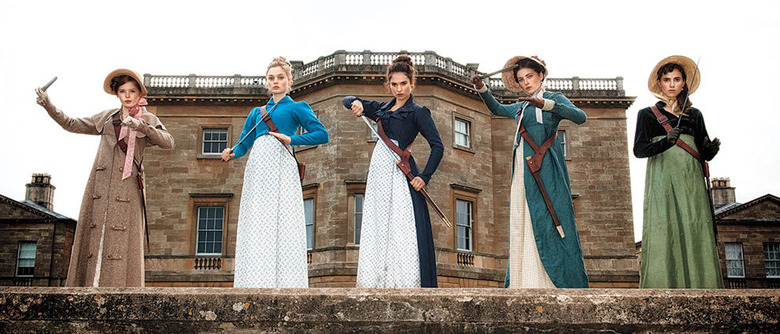 Jane Austen adaptations and zombie actioners are a pretty common sight at the box office. A Jane Austen adaptation that's also a zombie actioner, though? Now that's not something you see every day. Directed by Burr Steers and based on the novel by Seth Grahame-Smith, Pride and Prejudice and Zombies is exactly what it sounds like — Austen's classic of love and social status in Regency-era England, only with more hordes of the undead.Lily James and Sam Riley play Elizabeth Bennett and Mr. Darcy. (Because nothing sends the heart a-flutter like a vigorous day of battling zombies.) Bella Heathcote, Jack Huston, Douglas Booth, Matt Smith, Charles Dance, and Lena Headey also star. Watch the Pride and Prejudice and Zombies trailer after the jump.
Screen Gems (via CBR) unveiled the Pride and Prejudice and Zombies UK trailer.
The first half of the trailer looks like your usual literary drama: gentle piano music, a grand countryside manor, a voiceover about the qualities a young woman needs to survive in polite society. Then a blood-caked zombie shows up, and things get real action-packed. The music, if you're curious, is Sleigh Bells' "A/B Machines."
Much of the trailer is footage that first screened at Comic-Con earlier this year. At the time, it was accompanied by a panel where Grahame-Smith told the audience the trick was to play it straight. "Burr totally understands the tone of this absolutely ridiculous, stupid film, and that the only way to go at it is without ever once winking at the audience," he said.
He was also careful to emphasize that his main inspiration was Austen's source material. "You're not going to improve Jane Austen, especially to me," he said. "So my intention was to take all her characters and themes and turn them up to 11." For example, as James put it, "Even in the original story, Elizabeth's a fighter and beyond her contemporaries in her ambitions and her ideas of women." So in this one, "She's a badass warrior. She's a ninja."
Pride and Prejudice and Zombies opens February 5, 2016.