First Photo: Carrie Fisher As Princess Leia In 'Star Wars: The Force Awakens'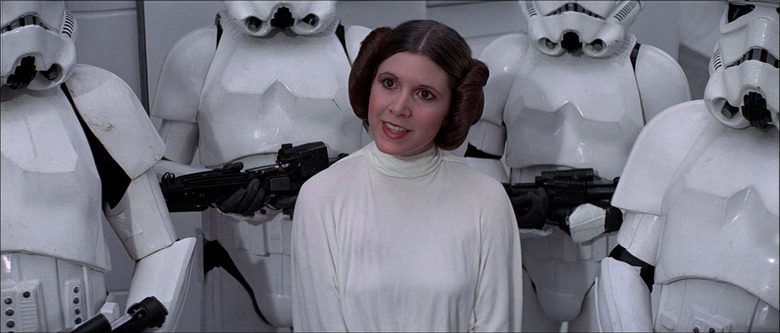 In the last Star Wars: The Force Awakens trailer, we got our first look at Chewbacca and Han Solo, but we still haven't seen the look of Mark Hamill as Luke Skywalker, or Carrie Fisher as Princess Leia, in the new installment. The new behind the scenes video that premiered at San Diego Comic Con International now gives us our first look at Carrie Fisher reprising her role as Princess Leia, 32 years after the release of Star Wars: Return of the Jedi. Hit the jump to see what Fisher looks like in costume as Princess Leia in JJ Abrams' Episode 7.
Here is the first Carrie Fisher Force Awakens photo, showing the 58-year old actress back in costume on the set of Star Wars: The Force Awakens: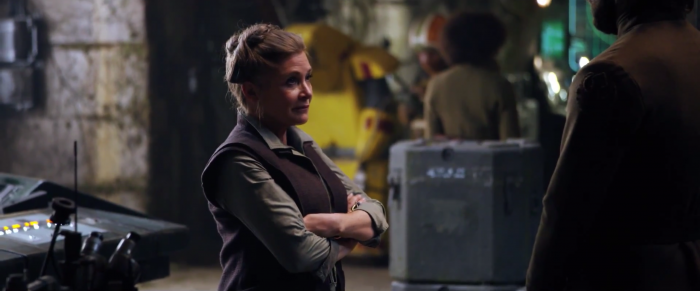 And the video also features a special moment between Fisher and her director JJ Abrams: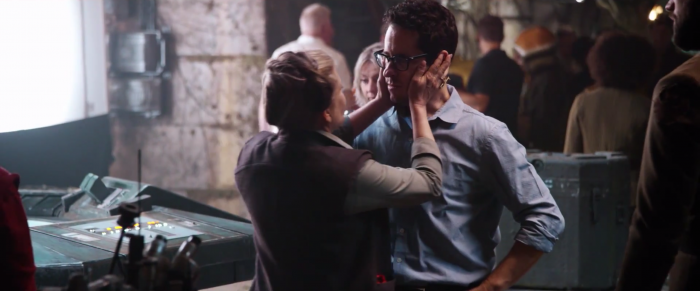 The brief clip appears to be taken from the same day of shooting on the same set, which looks like it might be the interior of a rebel base — again, just a guess. Gone are the Princess' trademark hairbuns, and her outfit hints that she might still be an authority figure in the Rebel Alliance. (A General perhaps?)
And of course you can watch the new Star Wars behind the scenes video which premiered at Comic Con 2015. If you haven't yet checked out the video, click the link and watch it now.
Star Wars: The Force Awakens, the seventh chapter of the Skywalker saga, is directed by J. J. Abrams. The Star Wars sequel stars John Boyega, Daisy Ridley, Adam Driver, Oscar Isaac, Andy Serkis, Domhnall Gleeson, and Max von Sydow, with Harrison Ford, Carrie Fisher, Mark Hamill, Anthony Daniels, Peter Mayhew, and Kenny Baker reprising their roles from the previous films. Force Awakens hits theaters on December 18th 2015.