'Game Of Thrones' Director Confirmed Jon Snow's Fate To President Obama [Comic-Con 2015]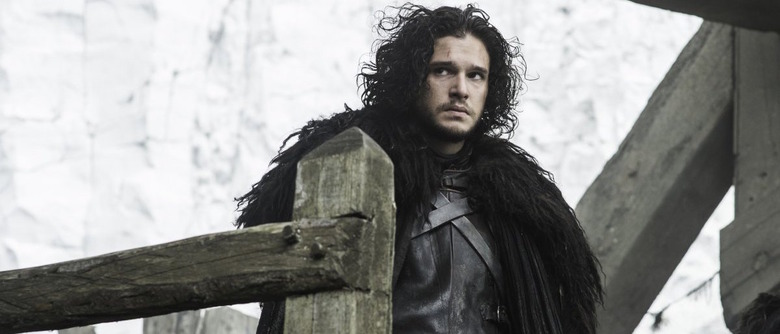 The heated debate over Jon Snow's fate on Game of Thrones has gotten so intense, even the President of the United States wants to know what's going on. Unlike most fans, though, he has the clout to demand answers from a person who might actually know the answer.
At the Game of Thrones Comic-Con panel, director David Nutter described a recent meeting with President Barack Obama in which he was asked to confirm the events of the Game of Thrones Season 5 finale. Read Nutter's Jon Snow Obama comments after the jump — plus an explanation of the truth behind the season's other big question mark, Stannis Baratheon. Spoilers follow.
Nutter recounted meeting "the number one Game of Thrones fan in the world," a.k.a. President Obama. "He shook my hand, put his hand on my shoulder, and said, 'You didn't really kill Jon Snow, did you?" he recalled. "I said, 'Mr. President, Jon Snow is deader than dead.'"
The Season 5 finale wasn't the only one of Nutter's episodes to make an impression on the President, either. Nutter also directed the infamous Red Wedding episode in Season 3, which he said was Obama's favorite episode. "'You keep killing my favorite characters,'" Nutter remembered Obama saying.
While plenty of fans miss Jon Snow, Kit Harington's co-star Maisie Williams jokingly suggested that the cast felt otherwise. "We couldn't wait for him to be gone, to be honest," she laughed. "That hair — so annoying."
Meanwhile, Nutter was also happy to put another controversy to rest. Speaking to EW, he confirmed that Stannis Baratheon died in the Season 5 finale. "From the very beginning, and [through] the script process, that was the intent — he's dead," he said.
Stannis' end has been questioned by fans because the camera cut away at the last moment, not actually showing Brienne's sword making contact with the would-be king. But it seems ambiguity wasn't necessarily the intention. Nutter explained that showing the death would have felt "gratuitous."