Photo: Deadpool Needs A Ride To Comic-Con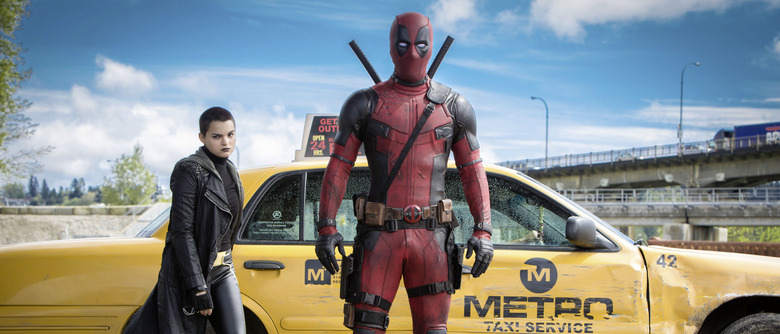 Like a lot of us, Deadpool is spending today traveling to Comic-Con for San Diego. Or he's trying to, anyway. Where most of us are driving or flying or taking a train, Deadpool (being Deadpool) has decided on a less conventional means of transportation. See the new Deadpool Comic-Con image after the jump.
Star Ryan Reynolds shared the Deadpool Comic-Con image on Twitter, which shows the Marvel mercenary trying to hitch a ride to San Diego.
Hey #SDCC, Thank you for being a friend... pic.twitter.com/Kl52TtOPio

— Ryan Reynolds (@VancityReynolds) July 8, 2015
Until recently we hadn't seen much from Deadpool, but Fox has really stepped it up in the past week leading up to Comic-Con. While there's no new footage yet, we've seen a slew of stills and promotional images for the upcoming movie. And it all looks pretty promising — they've done a good job of capturing the character's colorful personality and weird humor. Plus, his costume looks great.
The 20th Century Fox panel promises to be one of the biggest events at this year's Comic-Con, and we've already predicted that Deadpool will be the one to steal the scene. Rest assured we'll be right there sharing any new insights from the event with all of you.
In addition to Reynolds, Deadpool stars Brianna Hildebrand as Negasonic Teenage Warhead, TJ Miller as Weasel, Gina Carano as Angel Dust, Morena Baccarin as Copycat, and Ed Skrein as Ajax. The character Colossus will also appear, and Hugh Jackman's Wolverine is rumored but not confirmed. Tim Miller directed. Deadpool opens February 12, 2016.
Based upon Marvel Comics' most unconventional anti-hero, DEADPOOL tells the origin story of former Special Forces operative turned mercenary Wade Wilson, who after being subjected to a rogue experiment that leaves him with accelerated healing powers, adopts the alter ego Deadpool. Armed with his new abilities and a dark, twisted sense of humor, Deadpool hunts down the man who nearly destroyed his life.