'Ant-Man' Viral: Interviews With Scott Lang And Pym Technologies CEO Darren Cross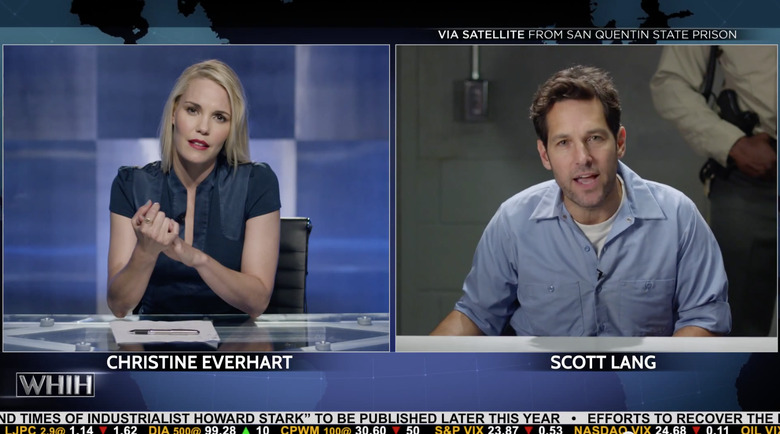 Update from editor Peter Sciretta: Marvel continues to release clips from the WHIH World News, the latest featuring an interview with Paul Rudd's Ant-Man character Scott Lang. I've also included a WiReD Magazine interview with Corey Stoll's character Darren Cross, who is the CEO of Pym Technologies. Watch the newest video embedded after the jump.
WHIH Interview with Scott Lang
Christine Everhart (Leslie Bibb, reprising her role as a reporter from the Iron Man movies) talks one-on-one with cyber-criminal Scott Lang via video interview from San Quentin prison. This tells us a bit about the Lang character's backstory, before the events that happen in Ant-Man.
WiReD Interview with Corey Stoll's Character Darren Cross, CEO of Pym Technologies
The Darren Cross interview teases Hank Pym's ties to SHIELD and an upcoming announcement coming from Pam Tech which could have huge implications.
The original story from July 8th written by Russ Fischer follows: 
Marvel is continuing to fill in the backstory of Ant-Man's primary character Scott Lang via viral videos.
This one doesn't feature actor Paul Rudd other than in still photos, but it does tell how he came to be in jail, and helps position his criminal acts as something akin to those of a Robin Hood type character rather than the selfish acts of a sociopath. It's a more concentrated dose of backstory than you'll get in the movie, really, and it also has a few fun little touches for fans. Check out the continuing Ant-Man viral backstory below.
This is the basic story of Lang's imprisonment:
Scott Lang, former systems engineer at VistaCorp, was arrested three years ago for stealing nearly $4 million from his employer and for a subsequent property damage rampage, which, among other things, claimed the prized Bentley of VistaCorp's CEO.
But the video will give you a lot more.
First up, yeah, that's Leslie Bibb returning as Christine Everhart, a character last seen in Iron Man 2. She'll be in Captain America: Civil War, too. The opening of this video also points towards the conflict that will make up the major storyline in Civil War. And there are some Marvel Studios easter eggs in the scrolling chyron below the main video footage, featuring minor updates on characters such as Jane Foster and Baron Strucker.
Directed by Peyton Reed, Ant-Man arrives in theaters July 17, 2015.
The next evolution of the Marvel Cinematic Universe brings a founding member of The Avengers to the big screen for the first time with Marvel Studios' "Ant-Man." Armed with the astonishing ability to shrink in scale but increase in strength, master thief Scott Lang must embrace his inner-hero and help his mentor, Dr. Hank Pym, protect the secret behind his spectacular Ant-Man suit from a new generation of towering threats. Against seemingly insurmountable obstacles, Pym and Lang must plan and pull off a heist that will save the world.
Marvel's "Ant-Man" stars Paul Rudd as Scott Lang aka Ant-Man, Evangeline Lilly as Hope Van Dyne, Corey Stoll as Darren Cross aka Yellowjacket, Bobby Cannavale as Paxton, Michael Peña as Luis, Judy Greer as Maggie, Tip "Ti" Harris as Dave, David Dastmalchian as Kurt, Wood Harris as Gale, Jordi Mollà as Castillo and Michael Douglas as Hank Pym. Directed by Peyton Reed and produced by Kevin Feige, Marvel's "Ant-Man" delivers a high-stakes, tension-filled adventure on July 17, 2015.