See First New 'The X-Files' Footage In Series Marathon Promo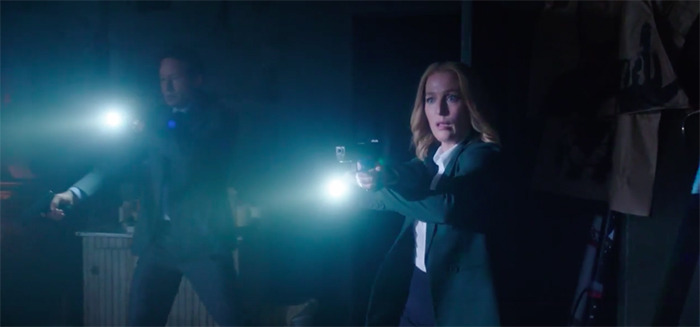 Fox is bringing The X-Files back to TV, and the network will bring people back to the series by running a one episode per day marathon. The marathon starts today, and now Fox has released a trailer for the marathon, and as a bonus it contains the first new X-Files footage, featuring David Duchovny and Gillian Anderson as Fox Mulder and Dana Scully..
Here's the trailer. The new footage is right at the end. There's not a lot of it, but there's enough to get fans excited.
As that trailer reveals, the full series marathon begins today and will run one episode of The X-Files every day for the 201 days. They'll show the 1993 pilot tonight, and then run right through the entire series, leading up to the Jan. 24, 2016 premiere of the new event series. Most of this teaser is built from footage from the prior nine seasons of the show, but those last shots, beginning at about :29, are new footage.
In addition, we've learned that Rhys Darby, a cast member of Flight Of The Conchords and also someone with a great personal interest in cryptozoology, will be in the new event series. We know this because Darby himself confirmed it:
The truth is out there...http://t.co/eILVhcAmDl

— Rhys Darby (@rhysiedarby) July 7, 2015
What we don't know is what sort of character he'll play. We know that, in addition to Anderson and Duchovny, the revived series will feature Mitch Pileggi as Walter Skinner and Joel McHale as a conservative internet news anchor in the new episodes. Reportedly, William B. Davis will return as the Cigarette-Smoking Man, and Annabeth Gish and Robert Patrick may cameo as special agents Monica Reyes and John Doggett.