Video: Universal Studios Hollywood Unleashes New 'Jurassic Park' Raptor Encounter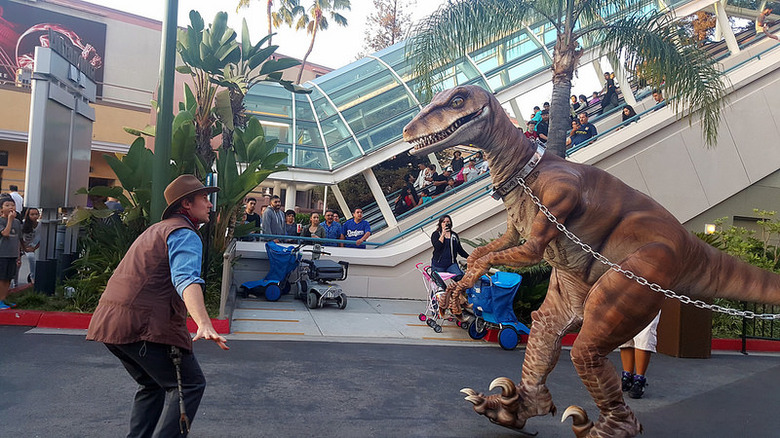 In May, Universal Studios Orlando launched a new area of the Islands Of Adventure Jurassic Park-themed land where guests could encounter a Raptor. The attraction featured a (fake) 10,000-volt fence keeping the animatronic pupated raptor from eating you. Now Universal Studios Hollywood is launching their version of Raptor Encounter, but this is more of a Jurassic World-themed meet and greet. Hit the jump to check out video of the Universal Hollywood Raptor Encounter.
The Raptor Encounter is a Jurassic World-themed Velociraptor meet and greet set in the Lower Lot, just outside of the Jurassic Park The Ride splash zone. According to Inside Universal (where the photo above comes from), the new attraction runs "nearly the full span of the operating day, with short breaks in between, it was consistent at drawing crowds, thanks to a short show before the photo opportunity begins."
Here is a video captured by the site showing a Universal character dressed almost like Chris Pratt's raptor trainer Owen from Jurassic World, introducing a Velociraptor into the wilds of a real theme park.
Too bad the puppeteered raptor doesn't look as good as some of the creatures from the Walking with Dinosaurs stage show. But its still cool to see Jurassic Park get some new additions. I wonder if Universal is working on any new Jurassic World attractions to add to either Universal Orlando or Universal Hollywood now that the film is a mega hit.
Jurassic World producer Frank Marshall previously told me that the Universal theme park designers were very very interested in turning the Gyrosphere from Jurassic World into some sort of ride. I hope that happens sooner than later, as it would be very cool to ride around Jurassic World in a 360 degree sphere. Even if it would be yet another screen and glasses motion simulator ride in Universal, that one seems like it could be awesome.