Cool Stuff: Laurent Durieux's Beautiful 2015 Telluride Film Festival Poster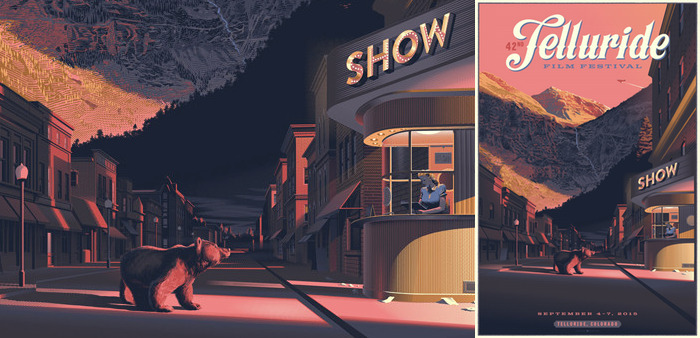 Each year the Telluride Film Festival commissions an artist to create a poster for the event. We usually don't feature the posters on the site because often they are more on the experimental side of things (although, Pixar's Ralph Eggleston created the fantastic 2010 poster).
But we are featuring the 2015 Telluride Film Festival poster because its beautiful, and it was created by Belgian artist Laurent Durieux, an artist we've featured many times over the years on /Film. I personally have Durieux's Back to the Future 2, Metropolis and Peter Pan posters on my walls. Check out Durieux's Telluride Film Festival poster in full, after the jump.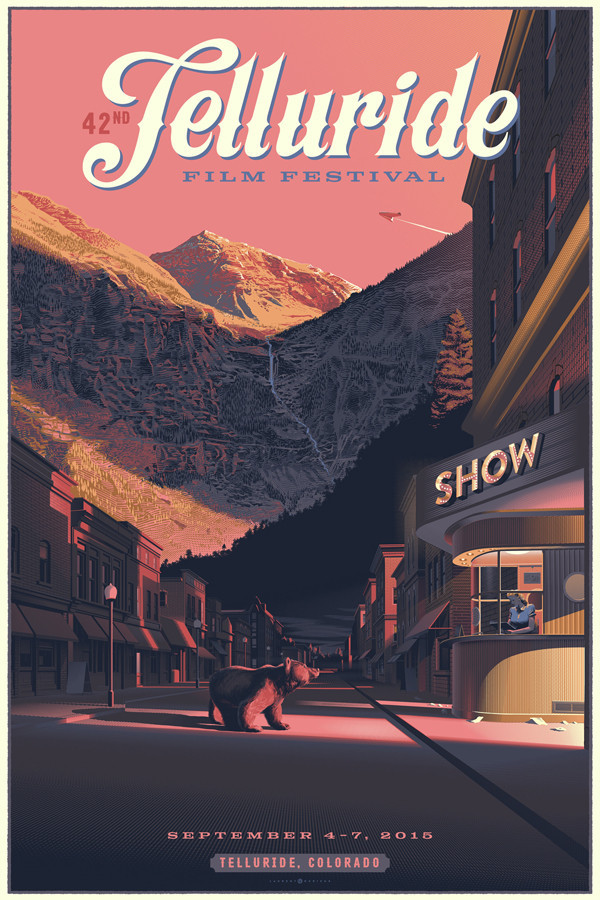 Isn't that poster beautiful? You can purchase a 16 x 24 inch version of Laurent Durieux's 42nd Telluride Film Festival poster on the Telluride Film Festival online store.Thanks to FirstShowing for the heads-up on this one. Here is a look at post Telluride Film Festival posters:
Here is the official press release:
42nd Telluride Film Festival presented by National Film Preserve LTD., proudly announces illustrator Laurent Durieux as its 2015 poster artist. Telluride Film Festival's prestigious annual gathering for film industry insiders, cinema enthusiasts, filmmakers and critics takes place every Labor Day weekend in the picturesque town of Telluride, Colorado. The 42nd edition of TFF will run September 4 – 7, 2015.
Laurent Durieux was born in 1970 in Waterloo, 20 km from Brussels in Belgium. Laurent has been an illustrator and a graphic designer for over 20 years, and when he isn't teaching graphic design, he spends his time creating posters for movies, old and recent. In 2010, he directed his first short animated movie titled HELLVILLE for Canal+ France produced by renowned French director Jean-Jacques Beineix (BETTY BLUE, DIVA, IP5). Laurent has since taken part in many shows in Belgium, France and in the USA. Laurent's posters can be found in several prestigious cinema related institutions such as the Academy of Motion Picture Arts and Sciences in Hollywood and the Cinémathèque Française in Paris, France, as well as many worldwide private collections. After his first retrospective exhibition in France last year, Laurent has been invited to present his work in an individual exhibition, which will be held at the Cultural Centre De Warande in Turnhout, Belgium this June 2015.
"It's a great honor for me to have been asked to design this year's poster for the Telluride Film Festival," said Laurent Durieux. "To be associated with so many great names of graphic design and fine arts is, on its own, something I will cherish for a very long time. I am a big cinema enthusiast too and as such, it certainly was a thrill to work on a poster for a film festival of this calibre. My image for the poster is a tribute to the work of the great Edward Hopper whose work, like mine, is very cinematic. I came up with what I hope to be my own take of his painting, New York Movie(1939), by giving it a surreal twist and a dash of modernity. The way Hopper used shadows and lights has had a big influence on my work in general and he certainly has on this poster. I love nature too and so, naturally, I look forward to attending the festival and discover all the wonderful things this place has to offer!
"We first noticed Laurent's work when he created the art for Criterion Collection," commented Telluride Film Festival executive director Julie Huntsinger. "DVD jacket and one-sheet design is an art-form unto itself; capturing the mood of the film with one image. Laurent has done the same with this year's poster. He's managed to conjure the feeling and atmosphere of Telluride Film Festival with one breathtaking shot. It's simply stunning."
Laurent Durieux joins a prestigious list of artists who have shared their talents with Telluride Film Festival. Past poster artists include Christian Marclay, Dean Tavoularis, Ed Ruscha, John Mansfield, Julian Schnabel, Dottie Attie, Doug and Mike Starn, David Lance Goines, Chuck Jones, David Salle, Alexis Smith, Jim Dine, Seymour Chwast, Frederic Amat, Francesco Clemente, Dave McKean, Gary Larson, Chip Kidd, John Canemaker, Mark Stock, Laurie Anderson, William Wegman, Ralph Eggleston, Maira Kalman and Dave Eggers.