Exclusive First Look: Mondo's Godzilla Statue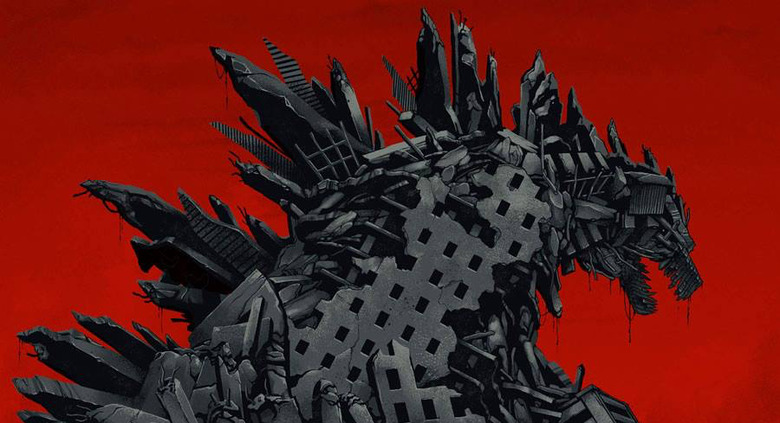 Mondo has given us an exclusive first look at their upcoming Godzilla statue, based on the poster created by Phantom City Creative for the 2013 edition of the con. Hit the jump to see a prototype of the Mondo Godzilla statue which will be on display at Comic Con 2015.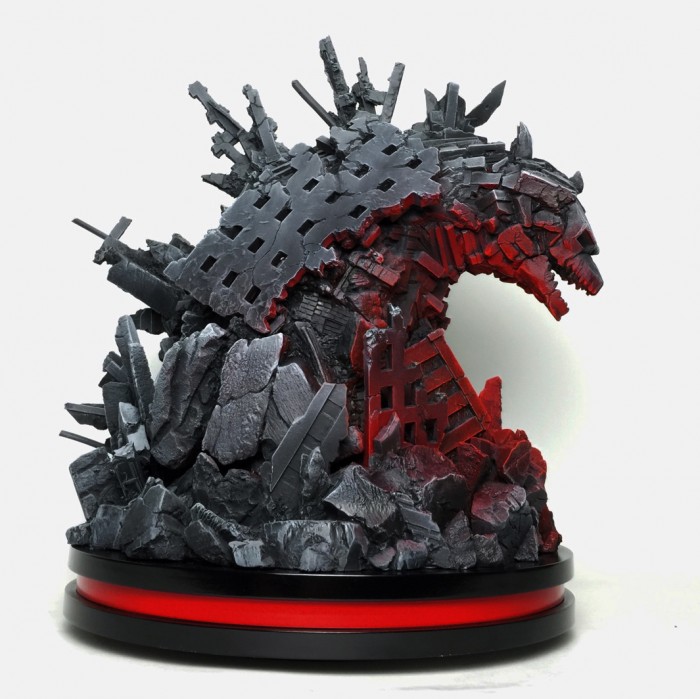 How cool is that? I love how Mondo is translating their 2D artwork into 3D collectibles, and can't wait to see what else they might have in store for us.  Here is the official description from Mondo:
Based on Mondo's teaser poster for Gareth Edward's GODZILLA, we've taken the stunning Phantom City Creative art and brought it into the third dimension. The Godzilla statue captures the destructive and ominous King of the Monsters in painstaking sculpted detail. Red paint details on both the base and underside of the beast harken back to the background color of the original poster art, while also hinting at an immolating city below.
The Godzilla sculpture will be display at Mondo's booth (#835) during San Diego Comic Con International 2015. Please note that the statue is a prototype and that some elements may change in the final product.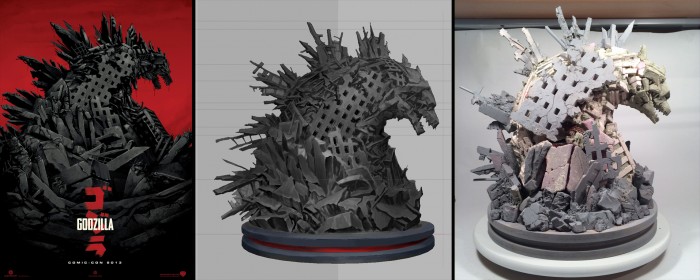 And here is a progression image showing the original Phantom City Creative screen printed Godzilla poster, statue concept and unpainted sculpture.
"The Godzilla statue is something I'm particularly thrilled about. I never thought there would be a statue made from my art, but I'm glad this is the one. As a die hard fan of Godzilla it was a thrill and honor to create an official Godzilla poster, and it's just as thrilling to have the poster turned into an official Godzilla collectible," said Justin Erickson of Phantom City Creative.
This piece is the next addition to Mondo's line of unique collectibles. They have been introducing 3D toys and collectible statues based on original artwork released by the company (like last year's "Lil Mikey" based on Mike Mitchell's art and the "First Turtle" and "First Hellboy" collectibles based on creator Mike Mignola's very first iteration of popular comics characters). Pricing for the statue is still to be determined, with a pre-order scheduled for Fall 2015.