Netflix Sets Dates For 'Beasts Of No Nation', 'The Ridiculous Six', And 'Pee-Wee's Big Holiday'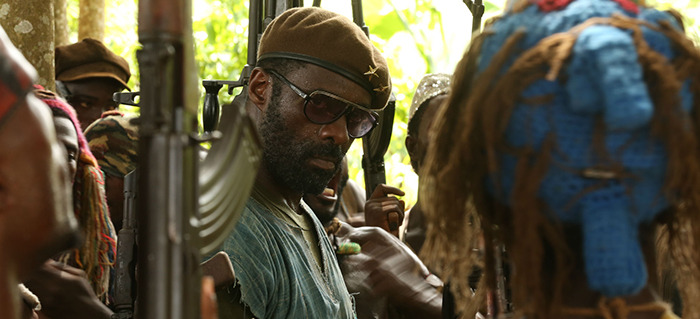 Netflix recently began making inroads into distributing theatrical-quality films, and now they're just about ready to show off the results. The company has announced scheduling for four upcoming movies: Cary Fukunaga's Beasts of No Nation, Adam Sandler's The Ridiculous Six, Crouching Tiger, Hidden Dragon: The Green Legend, and Pee-wee's Big Holiday.
Get the Netflix movie release dates after the jump.
The Netflix movie release dates were announced via press release.
Beasts of No Nation: October 16, 2015. Directed by Fukunaga and based on the novel by Uzodinma Iweala, Beasts of No Nation stars Idris Elba as a warlord who mentors a child soldier in a West African country. The film will simultaneously get an awards-qualifying theatrical release from distributor Bleecker Street. Other titles opening in theaters that day include Steven Spielberg's Bridge of Spies, Guillermo del Toro's Crimson Peak, and Goosebumps.The Ridiculous Six: December 11, 2015. The Western ensemble comedy, which also stars Taylor Lautner, Nick Nolte, and Terry Crews (why, Terry?), is the first of four films Sandler will make for Netflix. The project sparked controversy this year after the Native American advisor and several extras walked off in protest of its depiction of Apache culture. Frank Coraci (The Wedding Singer) directed.Crouching Tiger, Hidden Dragon: The Green Legend: Early 2016. The plan is to release the movie in IMAX on the same day it hits Netflix, though there's already been some pushback from theaters. Martial arts choreographer Yuen Wo-ping directs (replacing Ang Lee, who helmed the first film) and Michelle Yeoh reprises her role as Yu Shu Lien. Donnie Yen, Harry Shum Jr., and Jason Scott Lee also star.Pee-wee's Big Holiday: March 2016. In his first film since 1988's Big Top Pee-wee and his third film overall, Paul Reubens' iconic man-child character hits the road after a fateful meeting with a mysterious stranger. Reubens wrote the script with Paul Rust, and is additionally producing with Judd Apatow. John Lee directed.
While these aren't Netflix's first original films, the other titles they've released so far have either been documentaries (The Battered Bastards of Baseball, What Happened, Miss Simone?) or movies that might have gone straight to VOD on a different platform (Shotgun Wedding, Advantageous). Considering how successful Netflix's push into original series has been, it should be interesting to see how this next phase of their programming strategy pans out.