'Hannibal' Eyes Possible Feature Film [UPDATED]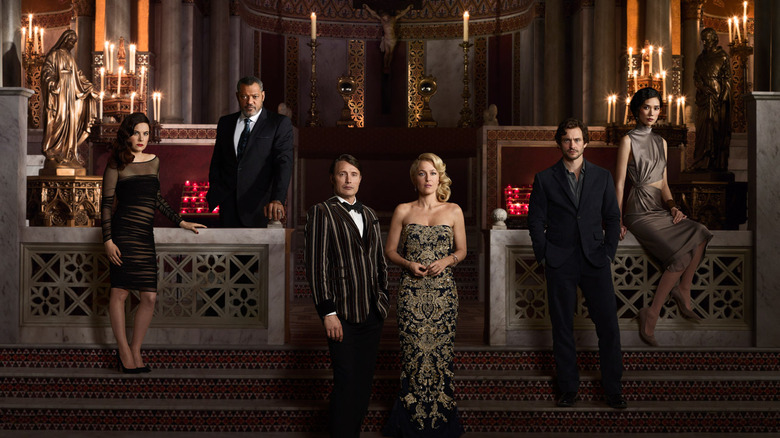 Update: After NBC, Netflix, and Amazon each passed on a Hannibal Season 4, showrunner Bryan Fuller confirmed at Comic-Con that they are exploring the possibility of a feature film. More details on the possibility of a Hannibal feature film after the jump. 
During the Hannibal: Savor the Hunt panel at San Diego Comic-Con, Fuller revealed that Hannibal could continue as a feature film. "The idea for Season 4 that we were intending to do could go into a film very easily," teased Fuller, though he declined to give specific plot details. He additionally verified that stars Hugh Dancy and Mads Mikkelsen would remain part of the show, even if it becomes a movie.
Or, as Hannibal producer DeLaurentiis Company put it:
We are still looking. Possibility of a feature film. Hugh and Mads committed to show. #Pannibal2015

— DeLaurentiis Co (@DeLaurentiisCo) July 12, 2015
However, there are still some hurdles to clear if Hannibal is to return as a film, including rights issues. We'll keep you posted as more details on the potential Hannibal feature film emerge. Original story from July 7, 2015 follows below.
NBC canceled Hannibal barely two weeks ago, and as is so often the case with shows that have a devoted fanbase, talk immediately began of a streaming service saving the series after its third season ends on NBC. The #saveHannibal hashtag gave rise to hopes of seeing Hannibal on Netflix or a similar service.
While creator and showrunner Bryan Fuller gave fans hope that salvation might not be too far away, now some of those hopes have been dashed. Netflix and Amazon, the latter being the series' best hope, have both passed on Hannibal.
Fuller tweeted,
@MikeBarbre I'M SORRY TO REPORT @amazon AND @netflix HAVE PASSED ON #HANNIBAL S4 BUT WE'RE STILL INVESTIGATING POSSIBILITIES

— Bryan Fuller (@BryanFuller) July 6, 2015
The fact that Netflix passed is, sadly, not a great surprise. Amazon already has exclusive rights to stream the first three seasons in North America, and without a rights package that includes earlier seasons, Hannibal doesn't look like a good deal to Netflix. Additionally, other aspects of the deal under which Gaumont International Television produced the show and licensed it to other territories may have precluded a Netflix deal.
Then there's Amazon, which due to the aforementioned deal for other seasons of the series, seemed like a more likely home. But as Fuller had said to Variety, "Without an NBC component, it's a little complicated. Even some of our international partners, because there's no NBC component, will pass on a fourth season."
That may have continued to be a problem for Amazon. Additionally, we have to consider that options on contracts have expired for stars Mads Mikkelsen and Hugh Dancy, necessitating a new negotiation, and also that Bryan Fuller has to attend to the first season of American Gods before he could really get back to work on Hannibal. That's quite a few hurdles that Amazon didn't want to jump.
There are still cries for Hulu or another service to step in, but the same factors that are keeping Hannibal off Netflix and Amazon may also be problems for anyone else. We may learn more later this week when the Hannibal panel, featuring Fuller, exec producer Martha De Laurentiis, Hugh Dancy, and Richard Armitage takes the stage at Comic Con in San Diego. Or that may simply be the cast's swan song on stage.